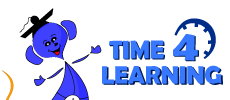 Website-
http://www.time4learning.com/
Cost- $19.95 per month for the first student, $14.95 per month for additional students.  No contract required, you can cancel anytime.  A free trial is also offered.
Must have a computer and access to the internet to use Time 4 Learning.
We have had the opportunity to try out
Time4learning.com
for the past month. I had seen a lot of advertisements for it before, but didn't really know what it was like. We tried out the preschool version for my 4 year old, and she thought it was really neat. There are versions for older kids as well, and you can "move up" when your child is ready. Kids progress at their own pace, and master a concept before moving on to another level.
All of the basic subjects are covered, including.....
Language Arts, Math, Science & Social Studies
My 4 year old is always asking to do "school" and I keep her busy with cutting and coloring and reading books to her, but some days I am tempted to turn on the TV and put a movie in for her because she isn't satisfied with those activities for long. It makes it hard some days to give my older children the attention they need in their subjects.
This is where Time 4 Learning came in handy for us, she was able to do all kinds of activities on the computer, which is fascinating for her. She really liked the matching games and having stories read to her with animated pictures to go along with it. I believe those were her favorite activities of all. She was kept busy for at least half an hour, sometimes longer, and it was educational instead of just filling up her time. I didnt feel so guilty for shooing her out of the classroom so I could work with the older kids either. We would hear her downstairs singing along and talking back to the computer and we would just giggle!
I wish I had tried out Time 4 Learning when our baby was born last year, it would have eased my guilt  about not doing enough with the kids for a few weeks while we recovered and settled back into a routine again. I'm not sure I would use it as a full time curriculum for my family, I enjoy being involved and doing things with the kids and teaching them myself, but there are definitely some times and circumstances when it would be a great resource to have. New homeschoolers who are still undecided on curriculum or are feeling a little overwhelmed could also greatly benefit from using Time 4 Learning.
You can join anytime and cancel anytime, since there are no contracts. Time for Learning can be used for just a month or 2, or full time if you prefer. There is no preparation involved other than logging your child in. You can track your child's progress and see how they are doing at any time.
If you are curious about Time 4 Learning, you can give it a try with the free trial they offer on the website for new subscribers who have never tried it before. So go ahead and give it a try, you never know, it could be the perfect solution for your needs in your homeschool.
DISCLAIMER ~ We received this product in exchange for giving a review of it as a member of The Old Schoolhouse Homeschool Crew and no other compensation was given. The opinions expressed here are my own honest thoughts after having used the product in our homeschool.