The history curriculum we are using this year recommended reading The Cat Of Bubastes by G.A. Henty when we got to the part of history covering the ancient Egyptians in 1250 B.C. I got the ebook on Kindle but was a bit overwhelmed when pre-reading chapter 1. So many unfamiliar words!
I was offered the chance to review an audio book from
Jim Hodges Productions
and
The Cat Of Bubastes
was one of the choices offered! Even better, we also received a
65 page PDF study guide
to go along with it. I love how God provides over and over for our homeschool needs!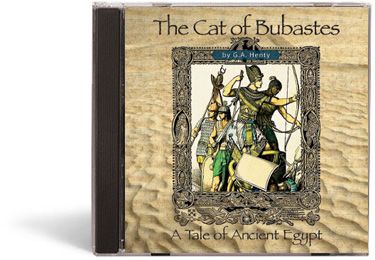 Jim Hodges has recorded many of G.A. Henty's famous books into audiobook form word for word, these are not abridged editions. You can read right along with the books themselves if you own them or download them onto a Kindle device. Or you can just listen with no book at all.
Why G.A. Henty's books? Listen to
Jim's talk from a previous homeschool convention
to see how using these well written books can enhance not only History lessons, but also Geography, Vocabulary, and Character.
The study guide comes in a printable PDF format for $12.00. The audiobook comes either in an MP3 CD format for $25.00 or in download version for $18.00. Note that the MP3 CD will not play in all CD players. It will play in any computer CD ROM drive, a DVD player, or an MP3 compatible player. You can also add it to itunes and listen with an ipod if you have one.
How we used this audio book and study guide.....
The printable PDF Study Guide was a really huge help for us in understanding the story. For each chapter there is a list of vocabulary words to look up. I love how he lists these in the order they appear in the book, not alphabetically. I looked these up in advance so I could stop any time an unfamiliar word was used and explain its meaning as we listened. Next there are questions for each chapter. We did these orally and discussed them together. There is space provided for students to answer on paper if you desire to do so. Lastly there are suggested activities relating to each chapter. Things like mapwork, drawing, Bible references, internet links to pictures etc, foods to try, and writing assignments are a few of the suggested things you can do to enhance learning and understanding of the time period.
The chapters average 30 minutes each so we listen to half a chapter a day, 4 days a week. We started with a whole chapter but it was a bit much as my kids are on the younger side of the age range for this book which is age 10 and up. Mine are 8, 10, and 11.
Here is how this book is broken down.......
CHAPTER

TIME (min:)

1:

The King of the Rebu

33:17

2:

The Siege of the City

31:55

3:

Captive

34:30

4:

An Easy Servitude

34:47

5:

In Lower Egypt

38:40

6:

Fowling and Fishing

34:52

7:

Hippopotamus and Crocodile

37:33

8:

The Conspiracy in the Temple

31:34

9:

A Startling Event

36:42

10:

The Cat of Bubastes

40:02

11:

Dangers Thicken

33:41

12:

The Death of Ameres

39:08

13:

The Search for Mysa

34:47

14:

A Prince of Egypt

35:22

15:

Ameres is Revenged

42:37

16:

Up the Nile

38:02

17:

Out of Egypt

35:55

18:

The Desert Journey

28:04

19:

Home at Last

33:35

20:

The King of the Rebu

19:19



Total Time: 11 hrs, 34 minutes
What we thought of The Cat Of Bubastes audio book and study guide.....
Like I mentioned above, the study guide was very useful and I am so thankful it was included with this review.
The audiobook itself was a bit different from what we are used to using. Most audiobooks we get from the library etc. are actually dramatizations, with different voices for the characters, and background music. This recording is the voice of Jim Hodges only. He does all of the reading and voices himself in the same voice. It was confusing for the kids sometimes knowing which character was speaking when. Reading along with the ebook helped with this, and over time they got used to it and could follow the story better.
The only thing I really wish is that this CD would play in our van's CD player. Because it is an MP3 CD we could only play it in our computer because we do not own any other devices that are compatible. The kids LOVE listening to audiobooks when we are driving, so that time would have been an ideal way to use this, but we made do.
If you have wanted to include G.A. Henty books in your homeschool but have been intimidated by them this is an excellent way to get started!
Read more reviews on other audiobooks from Jim Hodges productions by clicking the banner below.