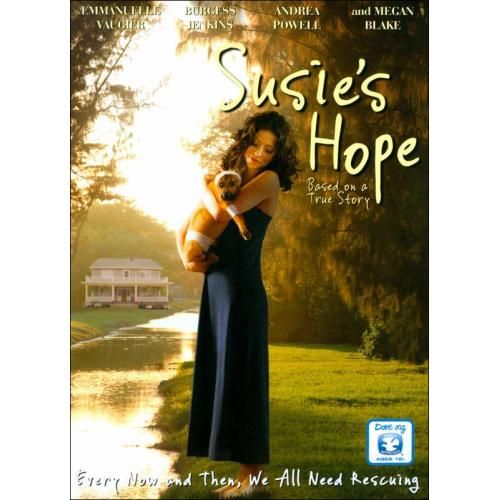 Are you an animal lover? Do you love movies that touch your heart so deeply that you just cry tears of joy? Well this movie is perfect for you!
Susie's Hope is based on a true story about a woman named Donna who felt sorry for a neighborhood dog left behind by its owners. She began feeding it and giving it fresh water daily. But one day the dog became territorial and attacked Donna. She was losing blood and her body was in shock, but she cried out to God for help, and miraculously she escaped and made her way to a neighbors house and survived.
Very understandably, she was terrified of dogs after this ordeal. Donna was devastated to learn that her unborn baby did not survive the attack however, and she would not be able to conceive any more children. This is where I first broke out in tears, I am expecting and have also suffered miscarriages. This news must have seemed unbearable at the time.
But God had a plan in all of this. A little while later a puppy was found in a park in Greensboro NC, barely alive, having been beaten and burned by its owner. This dog barely escaped its human attacker. When Donna and this puppy meet, her heart is broken for this animal. Her fears melt away as she does all that she can to help save its life.
Donna and Susie are both survivors, and a special bond is created between them. When Susie's abuser is found and brought to trial, Donna learns that in the state of North Carolina the laws are very outdated and the man who did this to Susie will not even get jail time for his crime.
Because of Donna's determination to see justice served, a new law is passed to protect animals from abuse. The law was appropriately named "Susie's Law".
Susie is now a healthy adult dog, and although her body bears the scars, her heart is good and true. Susie visits burn victims, as well as other needy humans and helps bring healing everywhere she goes! She is a trained therapy dog and received the American Hero Dog award for 2014!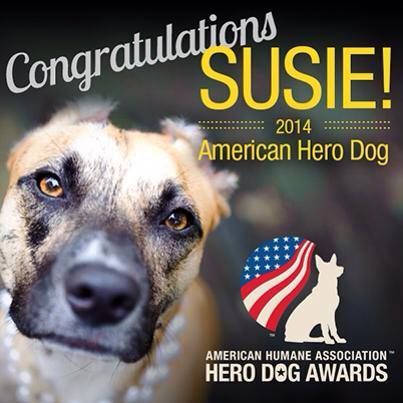 Although this movie has some harsh realities in it, and parts are so sad that my girls and I just cried, I think it is a good family movie and the ending really shows how God worked it all out for His good in the end. A tragedy was turned into hope for both humans and animals, and today humans continue to benefit from meeting Susie and hearing her story. Donna and Susie work together as a team. They visit schools, churches, pet adoption fairs, fundraisers and organizations to motivate and educate people. These are their principles:
We believe that having a pet is a huge responsibility and that, before adopting an animal, the family must be sure that they have enough time and love to give their pet.
We believe that no one should ever hurt any creatures and that animals have feelings and experience pain just as humans do.
We teach children about staying safe when they are around animals they don't know. One person or one animal can make a difference in this world.
We will continue to inspire people to make the most out of life through love, hope, and forgiveness.
It is such a good thing that the stricter law was passed. Any human who can abuse an animal so heartlessly, is likely to do the same to another human. So this law is potentially helping us as much as it does them!
Every purchase of this DVD helps fund the
Susie's Hope Fund
, a non profit organization that promotes education and awareness of the care and responsibility required in owning pets as well as animal safety around unfamiliar animals.You can also donate directly at the
Susie's Hope website
.
Would you like to win a copy of Susie's Hope for your family? Enter below using the Rafflecopter form. If you are reading this via email
click here to go directly to the blog post
to enter.
a Rafflecopter giveaway
"Disclosure (in accordance with the FTC's 16 CFR, Part 255: "Guides Concerning the Use of Endorsements and Testimonials in Advertising"): Many thanks to Propeller Consulting, LLC for providing this prize for the giveaway. Choice of winners and opinions are 100% my own and NOT influenced by monetary compensation. I did receive a sample of the product in exchange for this review and post.
Only one entrant per mailing address, per giveaway. If you have won the same prize on another blog, you are not eligible to win it again. Winner is subject to eligibility verification."