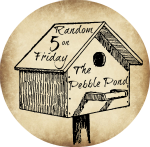 1. I still haven't read through all of my emails from being gone for days. Guess that's a goal for next week. Ugh.
2. There are some real advantages to renting a house for a week instead of staying in motels. The two biggest ones for me are being able to cook our own meals and do laundry there. I get to come home with no laundry piled up! WOOHOO!
3. We had our first field trip with our homeschool group on Tuesday. We went to a local apple orchard. Ill be blogging about that soon, it was such a nice visit!
4. My husband has been wanting a truck for years now. He thinks he found one and tomorrow he will be buying it if it is all the owner says it is. I wonder how he will look in a truck? Hmmm :)
5. Next week something amazing is happening! No spoilers sorry! You will have to check back next week to read all about it!
Have a blessed week!