Happy Kids Songs
were written to help kids deal with various social and emotional situations in their lives, and to encourage character traits like sharing, manners, and being a good friend.
For this review we received a download of three different volumes.....
Set 1 ~
Friends and Sharing
Set 5 ~
Happiness and Attitude
Set 6 ~
Manners and Character
Pricing is $4.95 per album or .99 cents per song.
We also received the 125 page
Happy Kids Songs Workbook ~ Hands on Activities to Build Character, Social, and Emotional Skills
. ($12.56)
Downloading these songs was a bit challenging for me because I rarely download music and I just didn't know what I was doing on my new computer I suppose. I got some help though and was able to get them downloaded to my computer finally. The website says you can burn them to a CD, but even with help I was never able to do that, so we just listened from the computer. I'm pretty sure this was really more of a problem with me, because other reviewers reported being able to bu
rn them just fine.
I let the kids just listen to the songs and see what they thought of them. I also gave them the workbook, which has pages to go along with each song.
The songs were written for ages 3 to 8, and two of my girls fall into this range at ages 5 and 8. The older kids listened at first but quickly left the room due to lack of interest. The little girls listened, but did not really get into the songs like I thought they might. They picked up a few of the catchy lines, and we had many nice discussions about the character traits they were trying to teach about in the songs.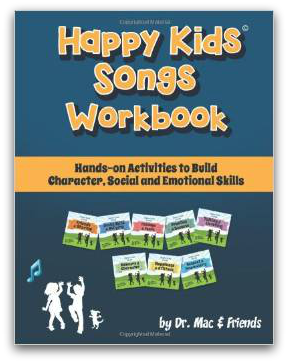 The little girls colored in the workbook a bit, but a lot of the activities required them to be able to read well, so without my help they just skipped those. I felt like some of the activities were a little too difficult to complete for their age range, so we just used the parts they wanted to do and left the rest. I feel like it would be better suited for use in a classroom setting.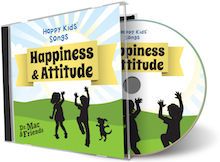 The songs in Happiness and Attitude were about being happy and having a good attitude towards others. Positive thinking is encouraged as well.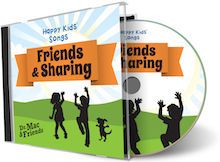 Friends and Sharing was about being a good friend and the different ways you can do that. Of course sharing is one of the topics, and including others in your play not excluding them.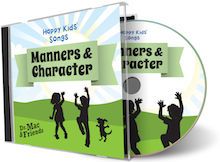 Manners and Character had the most interesting songs for them. We talk about character a lot in our homeschool and bible studies. These songs are not Christian, they are secular, but you can always add this in yourself and use the songs as a starting point for a discussion or lesson.
Manners are always a good thing to work on, even for adults!
All in all this product was not really a good fit for us at this time. A few years ago I think the kids may have enjoyed listening to the songs a lot more, but now they are very musically opinionated and found these songs to be better suited for younger kids. I will say that they were recorded well and sound very professional, but I have to agree with them that preschoolers would get much more enjoyment from the songs than older kids would. You know your kids best, so have them listen to the samples from the website before you decide if Happy Kids Songs would be right for them.
Facebook:
https://www.facebook.com/happykidssongs
Twitter: @howsyourfam
YouTube:
www.youtube.com/user/4DrMacMusic