I love starting out our school days with Bible time, whether that be in the form of reading from the Bible, working on a study, or praying together and discussing I try to always have God be our focus first thing. Our family was blessed with the
Fast Track Bible Pack - New Testament
set of cards from
Wizzy Gizmo
.
Never heard of a
Wizzy Gizmo
? Just
what is that
anyhow? Well a Wizzy Gizmo is a "what", and it is a "Who." Wizzy Gizmo is a fictional character who loves God and exploring the Bible. Since he has become a Wiz (not to be confused with a wizard, because he is not), naturally he has made Bible books, audio dramas, and Bible flashcards to help kids (and adults) learn more about the Bible too.
The Fast Track Bible Pack includes 27 cards, one for each book in the New Testament, and they are packed full of information! They were written for ages 2 and up, and make a wonderful supplemental tool to go along with any bible study or curriculum. The cards are a nice and big 5x9 inches with a good readable size font. This was important for one of my kids who has problems with small print. The set costs $14.99 and I feel like they are well worth it.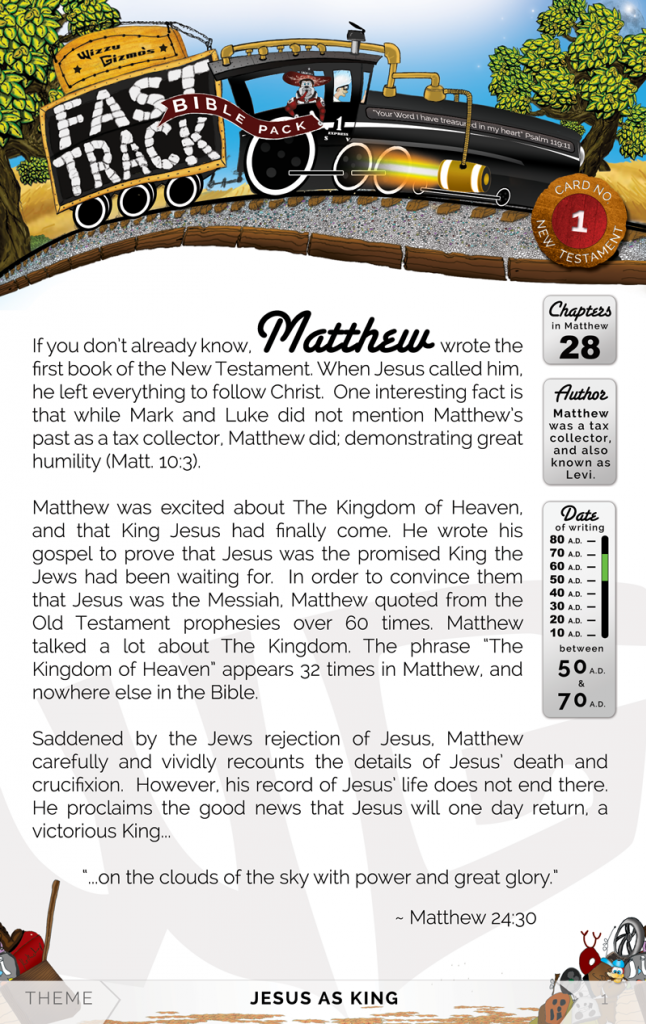 Here is a sample card from the book of Matthew.
Just from the front of the card we can quickly see that there are 28 chapters, that the author was indeed Matthew and it tells about who he was. The date of writing is also there, we were able to visually see this on our timeline we have for history in our classroom.
So basically the front is an overview of each book. The way these cards are written make you want to get out your bible and read some more.
I like how we can start with a card and then expand on what we read on it by going to the Bible and reading for ourselves.
The back of the card gives you an outline, key chapters, passages, doctrines, and people.
I challenged the kids to pick a card daily and read a little about it. Just as I had hoped, the kids began sharing with each other little things they had read on the card.
This has turned into a trivia game of sorts. They love trying to stump other adults (especially me) with their bible knowledge. This thrills my heart!
I am blessed every time they teach me something new, and it makes them feel good too.
One of the kids asked if she could take them to church with her to help her answer questions about her lessons. I plan on letting her after I have them hole punched and put on a ring. I dont want them getting lost!
There isn't a lot of room on the cards for a hole punch, but there is one little space I can do it and not punch through any words, at the very bottom where the leaves are.
We think the Fast Track Bible Pack is a very useful tool and we have had fun exploring them and the bible together! I hope in the future they have an Old Testament Bible Pack as well. I plan on getting the
audio drama
for Christmas. My kids love audio books and the sample sounded really awesome!
I can think of many ways these products can be used, and I have been enjoying reading others' ideas in the reviews by other members of the Schoolhouse Crew. You can read their reviews by clicking the banner below.....