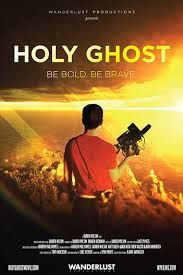 Do you like documentaries that make you think? Do you like hearing the stories of those who have found Jesus, been healed, or done things that only God could have made possible?
Holy Ghost
is a film that was put together without a script, without a plan, they simply went where they felt the Holy Spirit leading them. The result is pretty awesome in my opinion!
They meet people on the street and pray for them, pray for healing from the Holy Spirit. They go to a heavy metal concert where the band members tell the story of giving their heart to Jesus. They go out into the crowds waiting to go in and witness to them, pray with them, and share the love of Christ with an atheist. They tell about how they overcame drug and alcohol addictions. It is truly inspiring!
This part of the movie was the most moving for me because as a teen I used to listen to that type of music and dipped my toes into that dangerous lifestyle. I knew who these guys were from way back when. Hearing them testify and share the gospel with their fans made me cry tears of joy! God can use anyone! The life turnaround these guys have made because of Jesus Christ gives me hope!!
The Holy Spirit is alive and this film was made to glorify and give Him honor, to show the world He is really there if they only believe! I think you will be inspired by some part of it as well.
The movie features big names such as Lenny Kravitz, Brian "Head" Welch, Bill Johnson, Michael W. Smith, Todd White, Meredith Andrews, DeVon Franklin, William P. Young, Phil Vischer, and many more!
This is a family friendly movie, my kids from ages 5 to 17 watched the whole thing with me. The only thing the film shows that I had to explain was why some of the people in the crowd at the concert were displaying their middle fingers. My kids know it is a rude gesture, but where we live they have never seen anyone do that. I take every opportunity I can to let me kids know we shouldn't judge others for what they do, but we also shouldn't repeat what they do. Instead we pray for them.
You can see this film for FREE on September 6th by
clicking the link on this page
. The DVD will release on September 16th.
One of my readers will be picked to receive Holy Ghost on DVD! Enter using the Rafflecopter form below. If you are reading this post via email,
CLICK HERE
to enter on the blog page.
a Rafflecopter giveaway
"Disclosure (in accordance with the FTC's 16 CFR, Part 255: "Guides Concerning the Use of Endorsements and Testimonials in Advertising"): Many thanks to Propeller Consulting, LLC for providing this prize for the giveaway. Choice of winners and opinions are 100% my own and NOT influenced by monetary compensation. I did receive a sample of the product in exchange for this review and post.
Only one entrant per mailing address, per giveaway. If you have won the same prize on another blog, you are not eligible to win it again. Winner is subject to eligibility verification."