We had several bags of frozen shredded carrots in the freezer from last summer's garden. I wasn't even sure you could freeze carrots like that (apparently you can) so we gave it a try anyhow. We have 2 big freezers outside, but only 1 of them is frost free. The one that isn't is in need of a defrosting ASAP! So I have been trying to use up whatever we can lately to make room to combine both freezers into one.
I found this recipe in my recipe box. I never follow recipes exactly, especially if they are full of sugar and oil. This is my "healthier" version of that old recipe. If you like your muffins really sweet, you will need to add more sugar. These muffins are not very sweet, but oh are they good! It makes 3 dozen muffins, and every single one was gone. Only 4 kids were home that day! Heehee!
I was not able to freeze any muffins to see how well they freeze (they were all devoured) but if you do have leftovers I think they would freeze nicely. Cut the recipe in half if you need to, to get 1 and 1/2 dozen, or a dozen large muffins if you have a larger size muffin tin.
Next time I make these I am going to use freshly grated carrots and see if they are even better! If you make these let me know what you think, or if you make any changes and how that goes. Enjoy!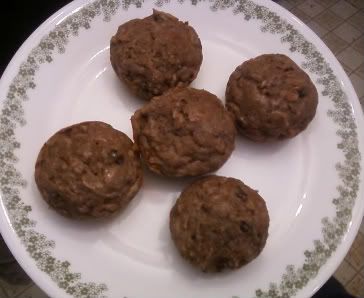 Carrot Raisin Breakfast Muffins
2 cups raisins
2 cups all purpose flour
2 cups whole wheat flour
1 tablespoon baking powder
2 teaspoons baking soda
1 teaspoon salt
1 tablespoon cinnamon
6 eggs
1/2 cup melted coconut oil
1 and 1/2 cups applesauce (unsweetened)
1 and 1/2 cups sucanat (or brown sugar)
6 cups shredded carrots
Preheat the oven to 350 degrees
Soak the raisins in warm water while you mix up the rest of the ingredients. At least 15 minutes.
Combine the flours, baking powder, baking soda, salt and cinnamon in a large bowl.
In another bowl combine the eggs, oil and sugar.
Then combine the two bowls together and stir just until moistened.
Drain the raisins, then fold the carrots and raisins into the batter.
Spray your muffin tins with cooking spray or use paper liners.
Fill them 3/4 full using a spoon.
Bake for 20 minutes, then check to see if they are done by inserting a knife or toothpick in the center of the biggest muffin. If it comes out clean they are done. If not let them bake a couple more minutes then check again.
Let them cool a few minutes before you give them to the kids, those raisins are especially hot!
I hope you love them as much as we did!
Blessings!