I have a houseful of little artists, they draw all the time. I have wanted to start an art program with them that would help them grow their drawing skills, and also experiment with other things artistic. I did not know how to teach them much myself, I needed help!


I found that help in
Artistic Pursuits
! I chose the K-3 book (pictured above) to review so I could include all 3 of my homeschoolers. The book is divided into 3 sections,
What Artists Do
,
What Artists See
, and
Where We Find Art
.
In lesson 1, we discussed the different ways that artists compose. We talked about different people we know, and the forms of art they create. My oldest daughter is a dance major in college, my mother paints beautiful pictures, my oldest son draws very intricate designs on paper. We also talked about different ways they have created art themselves. They were in a Christmas play (theatre) , they have made up dances to music (performing arts), they have had a few lessons on the recorder and guitar and made up their own music (composing), and now they are learning to draw and paint (visual arts).


Each lesson has full color reproductions of artwork to look at and study, I love how art history is included in the lessons. Certain aspects of the painting are pointed out, and questions are asked to help get the students interest. I have noticed already that they look more closely at pictures they see, and point out more details that they may not have noticed before.


There is a hands on project to do for each lesson, 32 in all, so there are plenty of projects for a full year in each book. The materials needed to do the art projects are not overly expensive. I was able to find everything we needed at Hobby Lobby. If you have a store like this nearby and can make several trips and use coupons it will be even less expensive for you. Unfortunately we do not have one near us out in the country. You can also purchase
art supply packs
with everything you need for an entire book, plus a tote bag, on the
Artistic Pursuits
website.
Let me share some of the kids artworks with you! These were composed using watercolor crayons, I had never heard of them before using this book, they are VERY COOL!


"Monkeys"
Original watercolor painting by
Skye ~ Age 5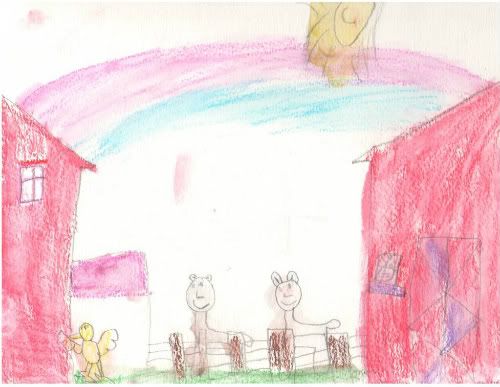 "Farm of the Special Animals"
Original watercolor painting by
River ~ Age 7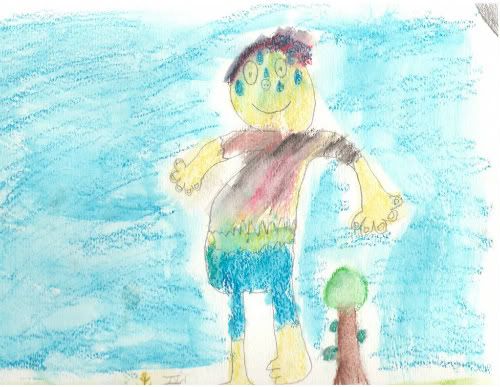 "Giant"
Original watercolor painting by
Brae ~ Age 8
What I like about Artistic Pursuits....
1.
It is very easy to teach, even though I know very little about art myself.
2. I can get them started on a project with very little preparation.
3. The needed supplies were easy to find, and to use.
4. I love that art history and appreciation is built into the lessons.
5. I really LOVE that this book is non consumable, I can use it again with my 2 year old later, and with my grandkids too.




What the kids like about Artistic Pursuits....
(in their own words)
1. I love art! Now we get to do it more!
2. Watercolor crayons are awesome, I didnt know how to use them before.
3. The pictures in the book are cool, and some are weird.
4. I cant wait to see what else we get to do in the book!
5. Can we go do some art now? Get off the computer Mom!
It makes me happy to see my kids loving homeschool even more now that we have added Artistic Pursuits!
Grab your own book in the level you need at http://www.artisticpursuits.com. Each book is $42.95.

Disclaimer ~ We received this product free of charge in exchange for an honest review as a member of the
TOS Homeschool Crew
. No other compensation was given. All opinions are my own and may vary from those of others.