God's Great Covenant ~ New Testament 1
is a bible study course for children from
Classical Academic Press
, and was written for grades 4 and up. My two oldest homeschoolers are about to enter 4th and 3rd grades, respectively, but I felt that they would be able to grasp the concepts and teaching in this course just fine and I was right. My almost 1st grader also joined us for lessons and she enjoyed listening in.
There are 3 components to this set, the
Teacher's Manual
($24.95), a consumable
Student Workbook
($26.95), and
MP3 audio files
($9.95) that contain all the readings from the book, over 3 hours worth read by Christopher Perrin. You can purchase these items separately or
as a bundle
for $56.95.
The book begins with a set of introductions...
Historical/Political
Chronological
Geographical
Religious
Daily Life
These introduction chapters really help set the stage for the lessons. I was able to better understand what was going on at the time, where these happenings took place, why some things happened the way that they did, etc. I felt this helped me more than the kids, at their young age a lot of this didn't make as much sense to them yet.
The lessons are divided into 4 units...
Unit 1- Jesus, the Son of Man, Has Come....To Live Among His People
Unit 2- Jesus, God's Servant, Has Come....To Proclaim the Good News
Unit 3- Jesus, the Messiah, Has Come....To Teach About God's Kingdom
Unit 4- Jesus, the Son of God, Has Come....To Conquer Sin and Death
The units consist of 36 weekly lessons that teach in great detail each of these 4 roles that Jesus held and the reasons why He came to live among us. I must say that I am learning right along with my children here. The teachers manual goes even deeper with notes alongside the complete student book. I can see the workbook page they are on in my book, so I don't have to hover over them to see what they have a question about.
The MP3 files were a real blessing, I enjoyed listening right along with the kids. We all liked the map pages, they are descriptive and easier to understand for kids. See a sample of one below...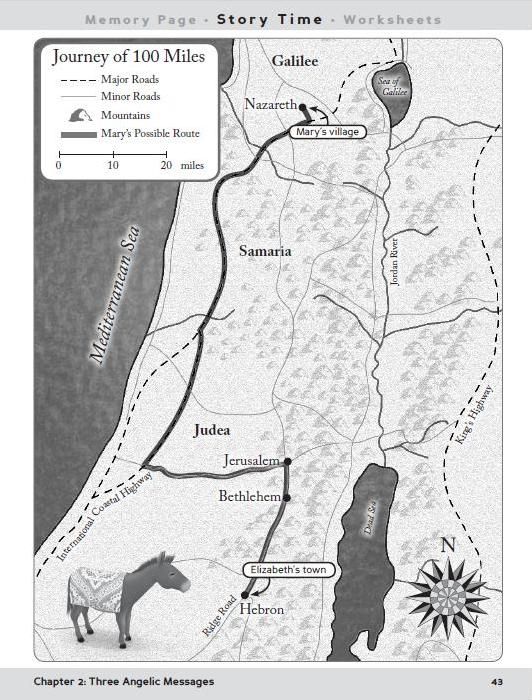 Here is a sample student worksheet.....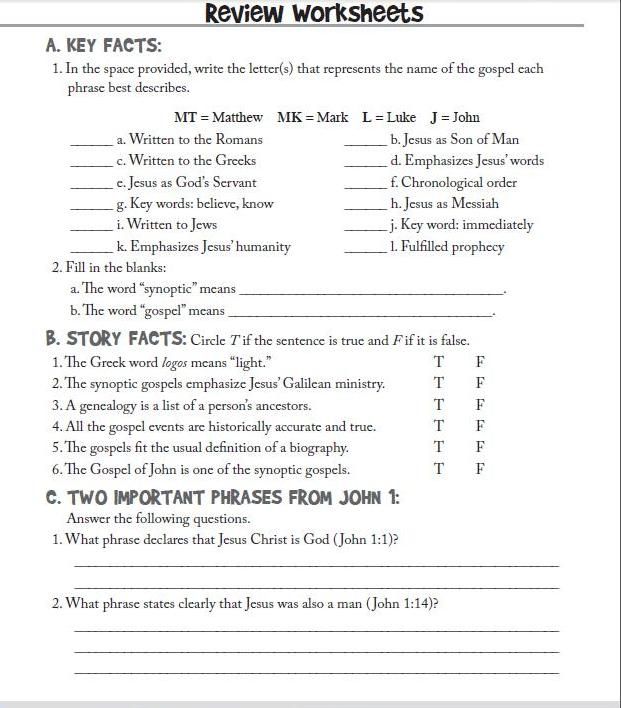 Here is a sample from the Teachers Edition. You can see the entire student text on the left, along with helpful notes on the right and space to make your own notes if you like.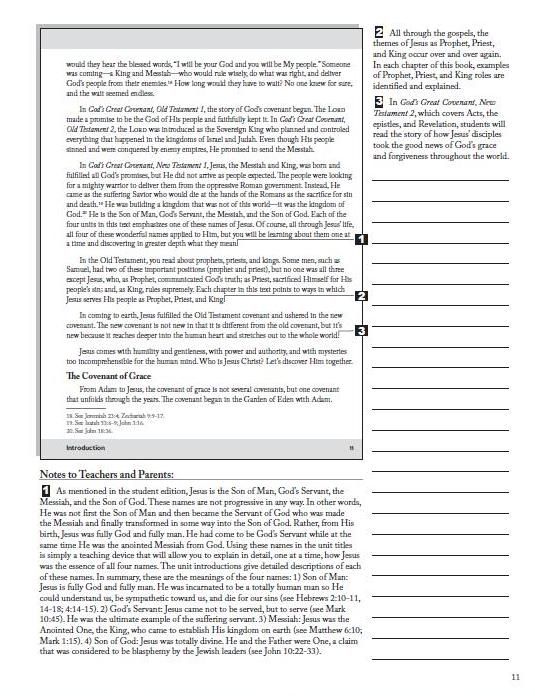 As a whole, we are enjoying this curriculum. We use it mostly to listen and discuss and do not do a whole lot of the worksheets from the student book at this time. My kids are reluctant writers so I do not want to discourage them by requiring writing during bible time. They do enjoy reading along, and seeing the maps gives them a visual and helps them remember details. We discuss the lesson together and answer any questions orally. That is the beauty of homeschooling! We can use the tools we have in ways that best suit us.
Read what other members of The Homeschool Crew thought of God's Great Covenant NT 1

Disclaimer ~ We received this product at no cost in exchange for an honest review after using it in our homeschool. No other compensation was given. All opinions expressed are my own.