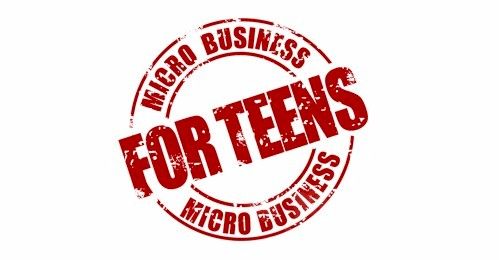 We are a family of entrepreneurs here at Stairsteps Academy. I have been running my own business online for 10 years now, and before that I did a few other things from home as well. We were excited to review Carol Topp's books from
Micro Business For Teens
. We received three of her books including
Starting a Micro Business
,
Running a Micro Business
, and the
Micro Business for Teens Workbook
.
I have two sons at home, ages 16 and 10, who both have an interest in making themselves some spending money. The books were written for ages 10-18, but I think adults can greatly benefit from these books too.
I have always thought of my home business as a small business, but now I realize I actually have a micro business. A "small" business is defined by the Small Business Administration as having up to 1,500 employees and an annual income of $25 million. That doesn't sound so small to me! A micro business is much different.
Read more about what makes a micro business by clicking here
.
Even after having my own business for 10 years now I still do not claim to know it all. In fact, after reading Carol's books I really wished I'd had this course for myself before I got started! I read both of the books in two days before giving them over to my boys to read. We have all learned a lot!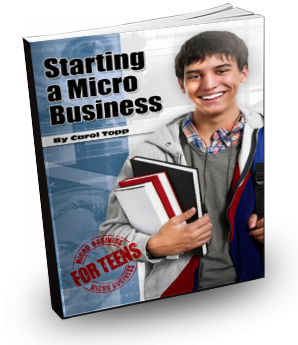 Starting a Micro Business
Paperback $9.95 or ebook $4.95
This book starts you out from scratch. Whether your teen already has a business or not, this is where they should begin. This book is just full of useful information.
In this book you will find many great ideas for a business that is right for you, how to avoid common problems and pitfalls, write a business plan, and start and grow your business
without debt
.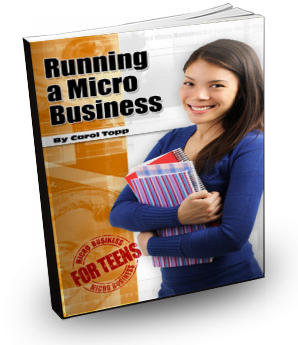 Running a Micro Business
Paperback $9.95 or ebook $4.95
Once your teen has an idea for a micro business and knows how to get started, this book shows you how to keep your business running smoothly and at a profit.
The chapters include advice on sales, marketing, customer service, record keeping, bookkeeping, using software, legal names and numbers, reducing risk, and time management.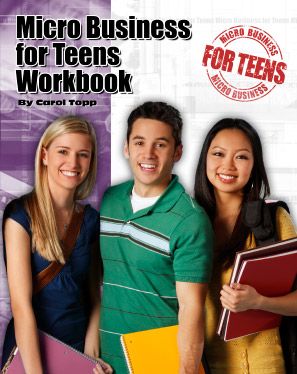 Micro Business For Teens Workbook
Paperback $14.95 or ebook $9.95
The workbook is what helps cement the information into your teen's brain. This one workbook covers both of the books above. You can complete the workbook in 3 months by doing just one chapter a week, or go at your own pace. Carol recommends the student have a mentor, either a parent or a business owner, to help along the way.
You could also use this in a co-op group setting.
As your teen reads each chapter, they complete the workbook pages. Again I say, this is something I wish I'd had when I started my first business. I had to learn so many things the hard way!
What did we think of Micro Business for Teens?
I personally think these books are well written and organized so that teens can understand them. There are no big unfamiliar words to decipher, everything is laid out in plain English. Carol has covered all the basics as well as added extras, including a chapter of encouragement. Her
website
offers even more information and help. This isn't just a book for teens, or even homeschooled kids.
My 16 year old son has already been doing odd jobs here and there this past year. His taxes were a bit of a nightmare because he didn't keep very good records. He is glad to know how to keep better records this year, and he can now see that some of the ideas he had tried in the past didn't make him much money. He said he feels like he can make better choices now, and he is brainstorming a couple of new ideas.
My 10 year old son is very artistic. Reading through this book has given him many ideas about how to make a little money doing something he loves. Right now he is working on his woodburning skills, he wants to make custom signs for people.
We are really thankful for this review! If you or your child have an interest in starting your own micro business I highly recommend these books!
Connect via.....
Facebook - https://www.facebook.com/MicroBusinessForTeens?ref=ts
Twitter - https://twitter.com/CarolTopp
Pinterest - http://www.pinterest.com/caroltopp/