There has always been something lacking in my homeschool. I have always known what that something was, but it was one of things in life that have always managed to elude me. Other people had it, I was envious of course, and I would attempt to obtain it but never quite did. Have you guessed what it is yet? It is only one little word, but for me the word has always seemed so HUGE! It's
ORGANIZATION
Well
I just got something that is helping me with my

big

little
problem. It's
The Old Schoolhouse Planner!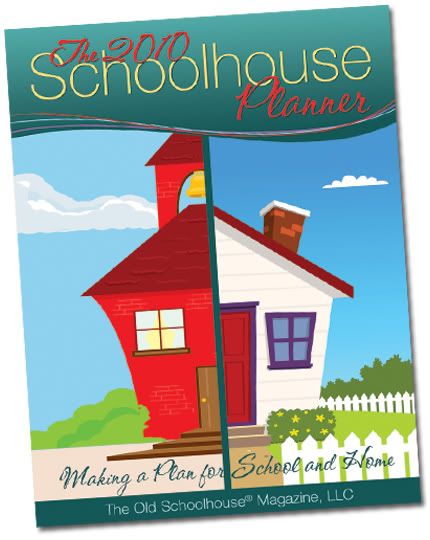 The first thing I did after instantly downloading the planner was print the calender for the year, with nice BIG spaces to write in unlike my wall calender with tiny little squares that are hard to write in and see. I immediately went through and added in all of my family's birthdays, and my new grandson's due date! I wrote in all of my due dates for upcoming reviews I will be doing here on my blog and our vacation dates (WOOHOO!)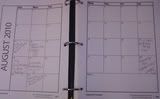 You can also get the planner on CD if you do not want to download it,
here is the link
for the CD version.
I have printed about 75 other pages so far, and I am working on those. You print just the pages you need! I was going to spiral bind my planner, but I have decided to put it into a 3 ring binder so I can add things in later as I need to easily throughout the year. This is going to make my job at the end of the year so much easier when I go to put together our portfolio review as required in our state!!
I plan on making a household budget book from the pages also, and binding it when I am done making our homeschool binder. Yes! There are even pages for organizing your finances and creating a household budget, grocery lists and meal plans! I cannot believe all the thought and hard work that has been put into making this planner, it is truly the only planner you will ever need!
I will honestly tell you why I have not purchased the planner before...and why I am so glad to have it now!
Reason #1- The cost. Our family has a modest income, and with with 8 children there is always something using it up. Four are still at home full time and homeschooled. One is in college full time, and if you have been to college yourself or have a kid there, that's all I needed to say right? So, I figured I could just make do and use what we already have. Well we did survive without this planner before, but now I can honestly say I would never want to do that again! The day I got it, and saw it was 614 pages long I nearly cried. Seriously! I couldn't imagine having something else to read right now when I was planning our homeschool year and trying to organize our schoolroom and plan our vacation. I am here to say though that once I started scrolling through the pages all I felt was pure relief! Everything I could possibly need to organize and keep up with for the year was RIGHT THERE READY FOR ME TO PRINT! There were even pages in there I had not thought of needing before, what a pure
BLESSING! 

It is really worth every penny!



Reason #2- I thought that having to print everything myself would be hard to do and time consuming. It did take some time to go through and print what I wanted to use, but it was time well spent.  This planner can be personalized BEFORE you print it! You can type in right on the page whatever you want to add, such as your subjects for the year, your children's names, etc. Boy was that handy to do on the chore charts!
Reason #3-  I'm a procrastinator! I am always waiting to the last minute to do anything, and usually stressing over it as a result. I am already more organized now than I have ever been, having printed and filled out just the pages I have now, and I am not done. I feel so much better about starting our school year! Just filling out the goal pages made me feel so empowered and ready to get started.

Let me tell you about one last feature that I just cannot wait to put to use in our school, the Homeschool Book Inventory pages! This comes at an incredibly great time for me! My baby brother came and built a whole wall of shelves in our classroom, now as I organize all of our books and put them in the new shelves, I can list them on those pages and I will know just what we have here when we need it! Now that's organization! I won't know what to do hahaha!!! I will definitely post pictures of all of this when it is done. Be on the lookout for that soon :0)

Click here to read
even more about this awesome planner and all that it includes. There is simply too much in it to list it all here.
Disclaimer ~ I volunteered to write this review in order to boost sales for The Old Schoolhouse planner. As a member of the TOS homeschool crew I was not paid for doing it, I was more than glad to help after being given the opportunity to use it myself. I know there are more mamas like me out there looking for a little help in getting organized! I hope by doing this I have helped someone out there! Have a blessed school year everyone!