Website -
http://www.brillkids.com/teach-reading/
Age Range- 4 months to 3 years
Available in different languages for multilingual families or those learning a different language.
PLEASE NOTE! At the time of this posting, Little Reader is compatible ONLY with windows XP, Vista, and 7, both 32 and 64 bit.
Little reader is a computer program that teaches babies to read using a flashcard approach on the screen. This method uses whole words to teach reading. We tried out the Little Reader Basic, which is a downloadable product. It was easy to download, but did not work correctly for us the first time we installed it. We contacted customer support and they were so nice and helpful! It was a quick fix and we were able to start using it right away.
The recommended way to use this program is 10 minutes a day, preferably 5 minutes in the morning and 5 minutes in the evening. So why is this method so effective?
Click here to read the reasons straight from the website.
There is so much content on this website, a lot of information and free downloads, and there is also a
parent forum
with over 20,000 members.
Our baby was 18 months old when we started the program, so she was not a really young baby. She does enjoy Little Reader! I tell her its time for her school and she runs for my lap. Holding your child and interacting with them as the program is running is a very important part of this program. You do not just set the child down by themselves to watch, you are actively involved the whole time. This helps your baby learn! Even really busy parents can find 10 minutes to spend doing this program twice a day. It is designed with busy parents and distract-able kids in mind. No prep work is required! Everything is all ready to go, just click the start button.
So all of that being said, I have to admit that we have not used it daily, I just forget some days. Bad me! BUT I also must admit that she is "getting it" and will sometimes blurt out a word before they say it, or she will point or kick when she sees that particular word. We have not been using it long enough to see any amazing results, but we will continue using it for the rest of the year, and I will update later on.
One feature I really liked was that I can replace their pictures with our own. For instance I can use pictures of our dog, grandma's cat, the horse in the field down the road from us, etc. She will see things a little more familiar to her. The pictures already there are great though, and the same picture is not used every time. After all, not every cat, dog, or person looks the same. Different voices are also used when the words are said out loud.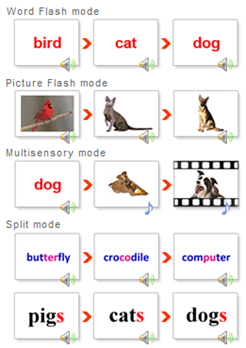 If you prefer to use paper flashcards,
Little Reader Deluxe
is also available and comes complete with everything you need to start teaching your baby to read.....










Installation disk and 2 Content discs with 12-month, ready-made curriculum






Lifetime usage of the learning system






2 BrillKids Presentation Binders






40 Customizable Flap Cards






20 Customizable Flash Cards






160 sheets of word and picture prints:
Content Printouts for 8 core categories






5 Little Reader Storybooks






2 Weekly Lesson Planners, one for each semester






10 Sheets of Sticker Labels for playing the labeling game






"Everything you need to know about teaching your baby to Read" booklet






Teaching with Little Reader" booklet






BrillKids Loyalty Points




Download a
FREE 14 day trial
to see what Little Reader is all about!
Little reader basic
- (Download) $149.00 per semester (6 months) or $199.00 for 2 semesters (1 Year)
Little Reader Deluxe
- (Actual physical product) $360.00 with content for 2 semesters (1 Year) and lifetime usage.
Also available from brill kids -
Little Math
and coming soon
Little Musician
Come read what others on The Homeschool Crew thought about Little Reader on
The TOS Crew Blog!
Disclaimer ~ We received Little Reader for free in exchange for an honest review, after using the product in our homeschool, as a part of The Old Schoolhouse Homeschool Crew. The opinions here are my own, and were not influenced by the company providing the product.