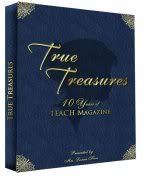 I received the book,
True Treasures
, to review just after Christmas. What a wonderful gift it has been! I am so excited to be a part of
The Gabby Moms
, a group of Mom bloggers who review products for
Eternal Encouragement Magazine
(formerly called TEACH magazine). I will be reviewing more items throughout the year, so be sure to subscribe to my blog to read more.  I have been a subscriber of TEACH magazine for almost 2 years, and I have always wondered what great articles I missed out on in the past. I got to read some of those articles all in one book!
Those of you who know me know all about my back injury right after Thanksgiving. As a result I spent a lot of time on my back in bed, nearly 7 weeks to be exact. During this time I had a lot of time to pray, read, and watch movies with the kids. I ended up reading True Treasures from cover to cover!
True Treasures has 6 chapters, and each chapter is full of articles that have been published by
TEACH
over the past 10 years. Many wonderful authors are featured, including Lorrie Flem, who started TEACH magazine. There are 2 indexes in the back of the book so you can find the articles quickly by Author or by title.
Chapter 1 ~ Jewels That Make the Heart Sparkle
The very first article in the book was just what I needed to read that day. As I lay there in bed wondering if I would ever be able to care for my family properly again, I was reminded how wonderful our God truly is. How He can take any situation we are in, any circumstance, and use it to fulfill His purposes and bring Himself glory! One of the bible verses used in this article is Romans 8:28-29 ~ "And we know that in all things God works for the good of those who love Him, who have been called according to His purpose."  My attitude was immediately changed, God had a very good reason for everything that was going on in my life right now, and He was in control of it all! The whole first chapter was very encouraging to me, and I just know it would be encouraging to you also!
Chapter 2 ~ Marriages of Solid Gold
Here again was a topic dear to my heart. Even the strongest marriage can sometimes have ups and downs. This chapter was full of advice on being a better wife. How to be a Godly helpmeet, but not a doormat. How to let my actions speak louder than words ever could about how much I love my husband. It's good stuff!
Chapter 3 ~ Parenting Pearls: Practical and Priceless
There was such real, useful advice in this chapter for me! Some things I already do in my home, but other things I did not but needed to. Good parents never stop looking for ways to better themselves, or to help their children to grow in the Lord. Here you will find wisdom from other real Moms who have been there and done that, and want to help you avoid some of the pitfalls of parenting. I love that this is scripture based advice, not the latest fads or worldly ideas. We have enough of that kind of  advice being thrown at us daily by those who may mean well, but fall short of what God has said in His word about parenting. I especially loved Lorrie Flem's short but sweet article on page 47 titled "Discipline Versus Punishment." It is the words I have always wanted to say but could never put into words!
Chapter 4 ~ Homemaking That Dazzles Like Diamonds
Here is the chapter I dreaded reading. I feel like a total failure at housekeeping, especially since my back injury. My house was literally looking like a tornado aftermath at that point. No one in the house was doing much to help the situation either. I read it anyway! I have to admit I cried a few times, and did a lot of praying. I knew this was an area I needed so much help in. The advice given was wonderful, and made a lot of sense, but in my current state of pain I couldn't imagine implementing it anytime soon. Two articles in particular helped me realize that the devil was getting a lot of pleasure from the fact that I felt this way, and also that I was probably expecting way too much out of myself, simply because I have 4 kids under 7 in the house. I also came to realize the importance of beginning chore training in my house, so that when I am down in my back or sick I will have some help with the housework. I agree that housekeeping / homemaking is one of the most important parts of life training we can give our children.
Chapter 5 ~ Homeschooling Nuggets of Wisdom
The most important thing I learned in this chapter is, there is no perfect homeschool Mom! Every homeschool is going to be different, and that is wonderful because every family is different. God gave us the children He wanted us to have because he knew we would be the perfect parent for them. There are some really good tips and advice in these articles. There is even a list of  FREE  websites available for use. Who doesn't love that?
Be sure and read the article on page 78 by Amy O'Quinn titled "This Too Shall Pass". It made me cry! That old saying can bring us comfort on a hard day, knowing it won't always be this way. But then again, the really wonderful things we have right now will also pass. Take the time to enjoy your child at the age they are now, you do not get this time back! I can really relate to this because I have already been there and done that myself. I have grown children as well as little ones, and I find myself wishing all too often that I could go back and enjoy my older ones, like I do my little ones now. God gave me such an amazing gift to have a "second" family. I am so thankful He did that for me, and I am so thankful that I am able to homeschool them as well.
Chapter 6 ~ Godly Living That Glitters
By this point I was sad the book was almost finished! This last chapter  is the perfect ending to a wonderful book however. With articles on forgiveness, contentment, serenity, and worry to name just a few, it is full of wisdom and help in leading a more Godly life. The last article was written by Nancy Nolan, Lorrie Flem's mother, who is now with the Lord. It is titled "12 Things I Would Not Change". It is simply beautiful!
I cannot say enough great things about this book! The only thing that could make it any better is if there were more of it! I hope there will be another compilation book in the future. I'm reading through it again now slowly, since I read through it so fast the first time.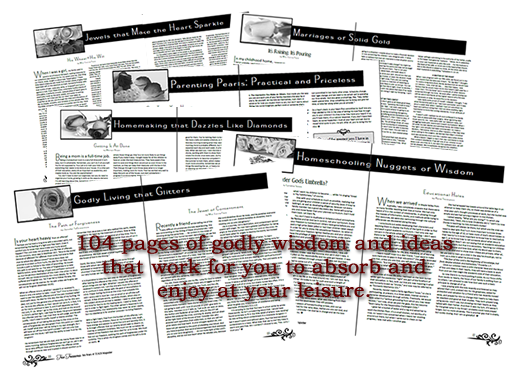 Click HERE to order your very own copy of True Treasures!
The regular price is $19.99, but if you order before May 31st 2011 you can get $4.00 off by entering the code GabbyMom at checkout. (Only 1 use per customer and per order.)
There are so many other great resources available at 
http://www.homemakingwithteach.com/
including the wonderful magazine where all the articles from True Treasures came from, which has recently changed it's name from TEACH to Eternal Encouragement. You can download a
FREE SAMPLE ISSUE
to see why it is truly a blessing for all women today!
In closing, I am praising God every day for being with me through my injury, and for healing me! I am now back to being a full time Mom again (carefully!) and I can now see at least some of the reasons why I had to go through that time. God is GOOD, all the time! If you are going through a rough time yourself right now, know that God is with you and I would be glad to add you to my prayer list!  May God bless you!

Would you like to read other reviews of this book?
Click here for a full list of links :0)
Disclaimer ~ I received this product for honest review from TEACH Magazine as a part of
The Gabby Moms
blogging program. All opinions expressed are solely my own.