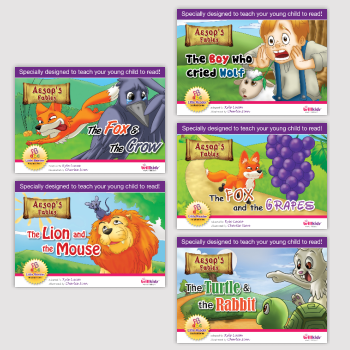 A few months ago I did a review on another product from Brill Kids called
Little Reader
. These storybooks are an extension of that program. What makes these books different? A couple of things, see below....
As you read the words to your child, the illustrations are covered by a built in flap, so the child can concentrate on the words being read and not just the picture.
Then open the flap to reveal the picture. Discuss it together, and interact as much as possible.
As you turn the page cover the illustration with the flap again.
Also the books have a nice large font, with lots of space between words, this made it easier for my 6 and 7 year olds to read them by themselves.
What did we think?
The kids liked the books and the stories a lot. My 2 and 4 year olds especially enjoyed them. They liked opening the flap and seeing the picture, and they loved the characters in the pictures too. My 4 year old laughs every time she we read them at the facial expressions of some of the characters. Shes so funny, just like her daddy, to notice something like that! The stories read like poetry, with rhyming words. My 4 year old is currently working on her rhyming word skills so these were perfect to help enforce that.
The books are nicely made, with thick pages. But they are softcover, and I did not feel comfortable letting my 2 year old have them without me helping her out. She could easily rip out the pages, and she did scribble in one while I wasn't looking. Since these were designed for ages 3 months and up I would expect a board book, or at least wipe clean pages. With supervision though they have held up well, and like I mentioned above the font and pictures are great for younger kids!
Aesop's Fables are available as a 5 book set
, which includes..


The Lion and the Mouse


The Fox and the Grapes


The Boy Who Cried Wolf


The Turtle and the Rabbit


The Fox and the Crow


Right now they are available for $37.50
(regular price is $50.00) If you already have Little Reader, these books are available as a free download for use with your software.
See what other members of The Homeschool Crew thought about Aesop's Fables!
Disclaimer ~ We received these books for free in exchange for an honest review after using them in our homeschool. No other compensation was given. All opinions expressed here are my own, and may differ from those of others.