Salve! (Hello!)
Our family has been blessed to review
Song School Latin from Classical Academic Press!
Since we started learning Latin earlier this year, my 4 year old has enjoyed picking up words here and there from that program. When we had the opportunity to use this program for Kindergarten through Third grade she was excited! Mostly because she saw the cute monkey on the cover, which happens to be her favorite animal in the world. But hey, whatever works right?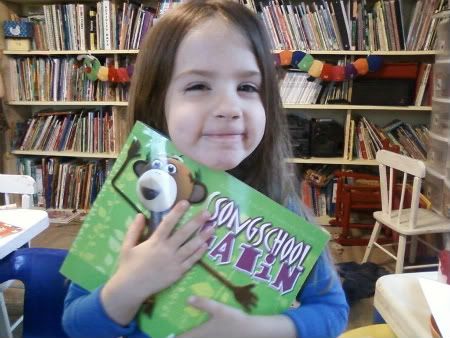 What makes this program so easy to learn is the songs.
Very
catchy little tunes help discipuli (students) easily remember Latin words, and they just love using them in everyday conversations now. They recently had lessons on how to use a cell phone, they got a huge kick out of calling up their Pater (father) and asking Quid agis? (How are you?) My husband didn't have a clue what they were saying, making it even more fun for them! I told him he needs to listen to their songs with them so he can interpret next time :0)
Having 3 discipuli in this age group made it even more fun while doing this review. What surprised me though was how my 2 year old has picked up on the songs, and sings right along with them! She cant say every word perfect of course, but it is SO CUTE!! I have her on video, but I can not get video to load to you tube from here to share, boo!
Some of the questions we have been asked are,
"Why would you want to learn Latin anyhow? Shouldn't they be learning something like Spanish that they can use?"
Well, Latin may be called a dead language because it is not spoken much, but it most definitely is USED. How about when you look up the scientific name of a plant or animal? Pharmacists and doctors use Latin also. Those are just a couple of ways Latin is used today. Our whole language is based on Latin, but the English language changes a lot. Latin doesn't change, this is why scientists use it! (We learned that in our science studies.)
Read this page for even more reasons to learn Latin.
"Isn't it confusing for young kids to learn another language?"
I wondered the same thing when we began. So far though, it has not been an issue.
"When do you find time to add in another subject?"
Song School Latin
doesn't take much time at all really. I save this subject for Saturdays, when we normally don't do any other school. The kids see this as extra FUN time, and ask to do it a lot. We might spend a half hour reviewing songs learned and learning a new one. Then I let them listen to the CD and do extra sheets from the teachers manual as they like. The kids get a kick out of teaching their new words to their older brothers and sister who are grown and never learned any Latin.
I
love
the magistra (teacher) manual, it has all the pages from the student workbook, with all of the answers filled in! PLUS it has 41 pages of extra puzzles, word searches, drawing and other practice sheets that you can photocopy for use in your classroom. Plus answer pages for those too. SO easy to use.
The student book has lots of fun-to-do pages to reinforce and practice using Latin words learned from the songs. The writing parts were too difficult for my 4 year old, but my 6 and 7 year olds did those together. The Latin Monkey Match Game was a lot of fun for them too!
There is also a great FREE website available called
Headventureland
that is full of games, videos, stories, and other fun extras!
If you have thought of teaching Latin in your homeschool, I highly recommend
Song School Latin.
Other languages are also available from Classical Academic Press.
The Song School Latin Bundle
costs $64.95 or you can purchase just the
teacher and student book
separately for $22.95 each.
See what other members of The Homeschool Crew thought about Song School Latin and other products from Classical Academic Press!
Vale! (goodbye!)
Disclaimer ~ We received this product for free, as part of the
TOS Homeschool Crew
in exchange for an honest review after using it in our homeschool. No other compensation was given. All opinions ar my own and may differ from others.