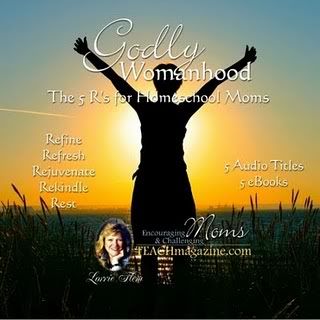 Sadly, this will be my last review with the
Gabby Moms
program. I am really going to miss reviewing all the great resources Lorrie has to offer at
Eternal Encouragement.com
. It may be the end of  my time, but it can be the beginning of yours! If you have a blog and would enjoy reviewing some wonderfully encouraging products then I encourage you to
apply to be one of the next generation Gabby Moms today!
Now let me share with you about the 5 R's of Godly Womanhood. I could go on and on about this product, it came as no surprise to me that it is Lorrie's best selling product after listening in to just the first session.
The 5 R's consist of ...
Refresh, Rekindle, Refine, Rejuvenate, and Rest
I will share briefly about the first 2, next month be sure to visit the
Gabby Moms
website to hear all about the other three!
Refresh ~ A woman who kneels before God can stand before anyone
How true! In this MP3 Lorrie shares with us how she has found time in her busy life to have time with God. We all know we need it, we know already how good it feels to be in touch with our Lord but life can become overwhelming and busy so quickly. Lorrie shares real life ideas for accomplishing this in our own lives without making us feel even more burdened. In fact she very gently shows us how we can be less burdened by giving our time to Him. My favorite tidbit from this session was how she also shares this time with her own children and lets them be involved along with her. My children still at home are very young and do not let me have very many minutes alone, no matter how early I get up! This was REAL, honest advice from the heart of a mother who has the same goals as I do for my children.
Rekindle ~ It's all about marriage! Red hot is so cool!
In November my husband and I will celebrate our 10th anniversary. As I look back on the past 10 years I can think of many times I wish I had this MP3.  I think the most important point I got from this recording was Lorrie's talk about romance. Have you ever realized that the word romance is never mentioned in the bible? Romance is a worldly thing. If we are looking for romance in our marriages and are disappointed when we do not find it there we are cheating ourselves of the real joys a marriage can bring.
Lorrie gives so many great ideas for showing our husbands our love! Another great point she made was that women need to be loved and men need to feel respected. If we give our husbands that respect, then we will get that love in return. There is simply too much to share, you will want to listen to the whole thing for yourself!
The 5 R's of Godly Womanhood has 5 audio sessions and also 5 e-books! It's available at
www.eternalencouragement.com
for $24.97. (Psst! That is way less that what one marriage counseling session would cost!) I guarantee this bundle will make a big difference in your life, I can already see how using these tools is making my own life better. Thanks Lorrie for all of the wonderful ways you encourage women of all ages!
Disclaimer ~ I received this product at no cost in exchange for an honest review. No other compensation was given.