Ive been on a quest for
years
a while now to make 100% whole wheat bread, that is soft and edible, at home. I have tried so many recipes, used many different flours, methods, etc. Almost every time it has been hard, dry, or flat. Some tasted good, but you wouldn't want to make a sandwich from them. Some smelled awesome, but then didn't taste so good. I almost gave up!
Since we have been on our journey to eating only real foods, Ive been following a few awesome blogs. One of those blogs finally gave me the recipe that has made us SOFT, EDIBLE bread!! Woohoo!
Kitchen Stewardship Homemade 100% Wheat Bread (Linked to the recipe) which was adapted from another version here.
I just LOVE this blog! It is so informative, great recipes, great tips, I just love it! And now I can start making bread for my family! Look at this gorgeous loaf.....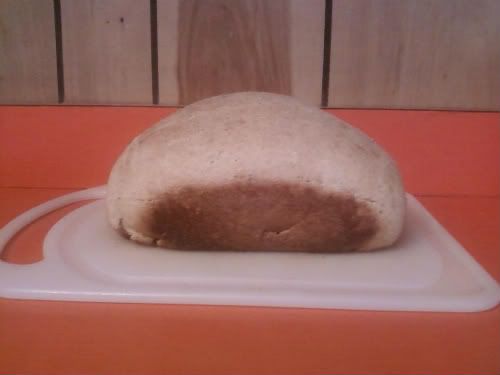 I'm so happy, I just had to share! Perhaps someone else out there has been on the same journey as I and will find the perfect recipe too :0)