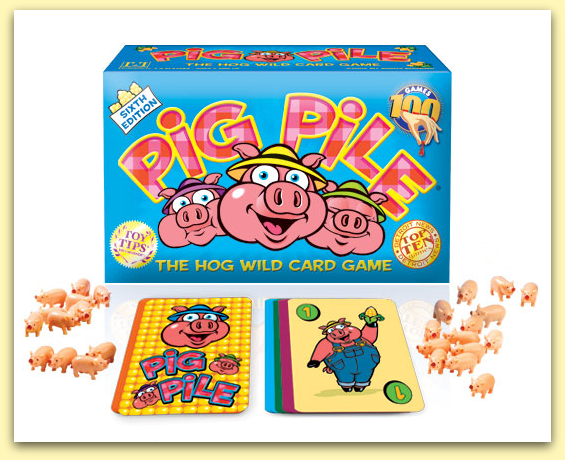 Pig Pile ~ Doesn't that just sound like a fun game? Well, it is! Some games geared towards kids can become very monotonous to me, but this is one game I don't mind playing over and over. My teens will even play this one with us.
I give bonus points to this game because of the cute little plastic pigs it comes with. My two year old gets the job of keeping everyone's pigs safe while we play. She is so busy with those little piglets she doesn't mess with our game. The pigs are included for keeping score, the winner gets 3 pigs, second runner up gets 2, etc. So we have to actually keep score on paper when we play (more math practice) because the pigs are being hoarded by my cutie pie. But that's OK, she isn't stealing our cards!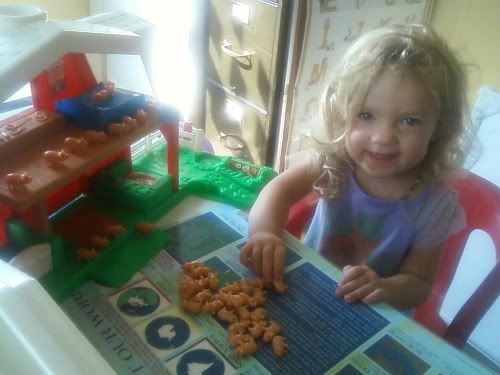 The directions for playing are very well written, it was easy to get started and remember the rules after a couple of rounds of play. It is recommended for ages 7 and up, but my 5 year is able to play with us with a little help from me. Playing has helped her learn number value. If the number on her card is higher than what is on the pile, she can play it, if not she needs to use a wild card or pick up the pile. Everybody gets a kick out of shouting HOGWASH! and clearing away the pile of cards.
It's a very well made game and should hold up to lots of play. The storage box is made from good sturdy cardboard. That is more than I can say about a lot of the  boxes that kid's games come in. The laminated cards are good and sturdy too.  I plan on taking this game camping with us next month, in a ziplock bag to protect it from moisture. When I asked the kids what games we should take with us,  Pig Pile was first on the list.
Get your own Pig Pile game at
R&R Games
, or use the store locator to find a store near you that carries
R&R Games
.


3-6 players Ages 7 and up


Contents: 80 cards, 40 Pink Pigs, illustrated Rules


$15.95


Use code
CREW20

at checkout to get a 20% discount when purchasing Pig Pile or Flea Circus now through December 31, 2011.See what other members of The Homeschool Crew thought about this and other games from R&R Games!


Disclaimer ~ We received this product in exchange for an honest review after using it in our homeschool, as a part of
The Homeschool Crew
. No other compensation was given.