Ooka Island
is an online reading program for kids ages 3-7.  It's an animated 3D game that helps kids learn through play. For this review my 5 year old daughter Skye played Ooka Island, and I watched.
There are a few things you need to know before considering Ooka Island for your child. First, you have to download a huge file, just over 2 Megs, so you NEED unlimited high speed internet to do this. We do not have this at our house yet unfortunately, so we had to go somewhere else to download the file. We couldnt have done this if we didnt have a laptop computer. I think Skye would have enjoyed playing Ooka Island more on the big screen of our home compter.
Also, you need high speed internet to play, this program ate up our bandwidth quickly, so Skye was only able to play a few minutes a day. (We have satellite internet here in the boonies, and we have limits on how much we can use.) Read about the program requirements
here along with other FAQ's
.
So, if you have the "good" internet where you live this will not be an issue for you!
In the picture below you can see some of the characters in this program. The robot named Zobot was the one Skye liked. She got to create her own character at the beginning, but for some reason her character had no face. We never could figure out how to change it, but that was just us. So her person looked a little creepy with a body and a helmet, but no face inside. Skye found this hilarious, especially since her favorite activity on Ooka Island was the cave of sounds. As her character rode a mining cart along the tracks of the dark cave , stopping to identify sounds, it all fit in perfectly in her eyes.
Because of our limited time to use the program I do not believe Skye benefited much from Ooka Island, but I can tell from what I did see that it had great potential! She did enjoy her time playing, and would always ask to play more. This would be a great way to reinforce skills for a struggling reader, as long as the child was young enough not to find this program babyish.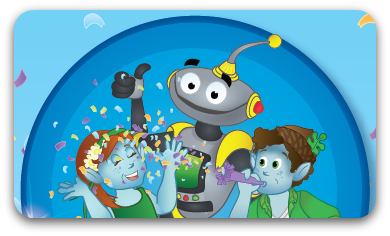 You can view the pricing options below.....
Use the code below to get a 30% discount, there is also a FREE TRIAL available!


Disclaimer ~ We received this product free of charge in exchange for an honest review as a member of the
TOS Homeschool Crew
. No other compensation was given. All opinions are my own and may vary from those of others.