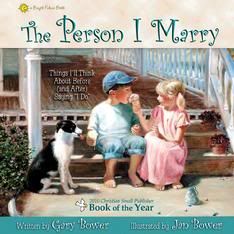 Ten years ago today, on November 3rd, 2001, my husband and I were married in a little church on the side of a country road. It wasn't huge or fancy, but it was special, I was marrying my best friend.
I have really enjoyed reviewing this book,
The Person I Marry ~ Things I'll Think About Long Before Saying "I Do"
, for many reasons.
It reminded me of why I married my husband to begin with. It gave me a chance to share with my younger children why marriage is so special. It's one of the many gifts God gives us, and should not be entered in with haste or without forethought. A lifetime commitment like marriage deserves a lot of thinking ahead, and I love how this book suggests to young children to start praying for their future spouse right now, they are out there somewhere!
My very favorite verse in this book comes from pages 28 and 29...
"Though it may sound a little strange, through every season, every change, this person must be someone who will cherish me as number two. Oh, I'll be deeply loved of course. But I can't be my partner's source. When everything is said and done, God must be our Number One."
Gary and Jan Bower, the author and illustrator, have 12 children. These books were created with love. Jan painted all the illustrations herself, using her own children, grandchildren, and others she meets as models. They are beautiful, and heartwarming. Gary's poetic style of writing is lovely to read, see for yourself in this video,
The Person I Marry
from
Bower Books
on
Vimeo
.
The Person I Marry
is part of the
Bright Future Series
, and sells for $11.99, and is just one of many wonderful books available from
Bower Books
. Shipping is free on orders over $30.00 (US only) and they will also autograph any book for free, just ask at checkout.
I received this book for review in digital format. The books themselves are hardback and are said to be of very high quality. After all it was a winner in the
2010 Christian Small Publisher Book Of The Year Awards
. I hope to be able to buy some of the physical books in the future! If I do I will update this post to comment on the quality of the physical books.

Disclaimer ~ We received this product at no cost in exchange for an honest review as a member of
The Homeschool Crew
. No other compensation was given.