This year I have challenged myself to learn a new skill every month. Something big and challenging to me. This month I chose knitting.
I have wanted to learn how to knit for years now. I have tried using DVD's and books, and even had a couple of short lessons from my Mom and a friend at a local knitting group. Fail.
A few weeks ago a friend who knits wanted some help with facebook and to let the kids play, so we traded lessons and had a wonderful visit that day.
By the time she left I was knitting. She also showed me purling and another stitch, which I promptly forgot! I practiced and practiced, but I didn't know how to actually make something useful.
My Mom came by one day and I showed her my practice. She suggested I make a dishcloth, so she got me started. By the end of the week I had half a dishcloth done! I had to call her to have her explain how to do the other half, hehe!
Here is my first dishcloth, all finished, full of mistakes and holes, but I was so proud of it!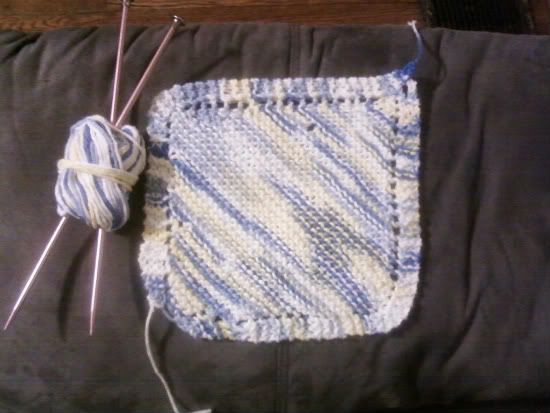 I had a chance to go to a Hobby Lobby just after Christmas, so I bought some pretty rosewood needles and a couple skeins of cotton yarn to make more dishcloths. Below is masterpiece #2! Much better in my opinion, a few mistakes but still very useable.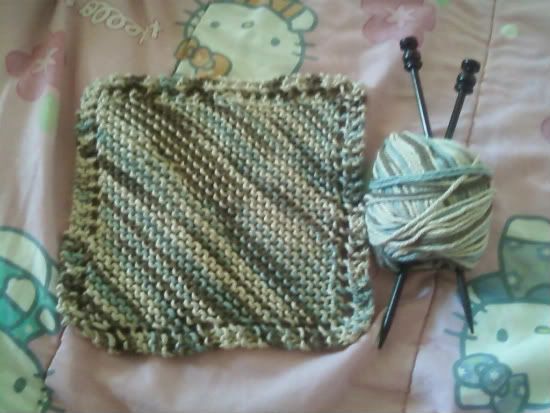 I have made a few more since then, with each one I got faster and made less mistakes. I can tell now when I have messed up and I can try and fix it before I get too far along.
So, YAY, thats my January challenge! See you in February with a new challenge.....