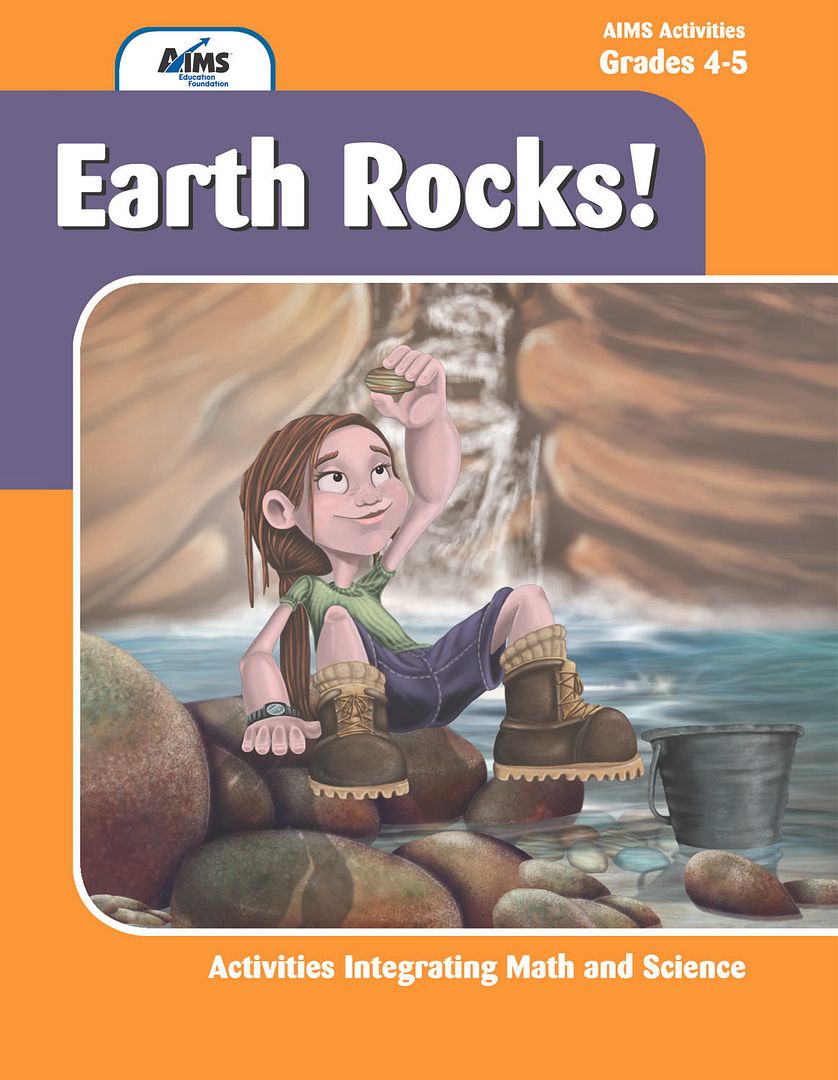 AIMS stands for
A
ctivities
I
ntegrating
M
ath and
S
cience. AIMS is a non profit foundation that wishes to give children a solid understanding of math and science. The projects are hands on learning, which is a great way to learn. In the beginning of the book is an old Chinese proverb....
I Hear and I Forget,
I See and I Remember,
I Do and I Understand.
That is such a truth! I am a hand on learner myself.
We chose
Earth Rocks
for our review because my kids love dirt! You can find them outside digging most days in the warmer months. I thought they would enjoy learning more about what the Earth is made of and how weather works. Earth Rocks includes six different sections including.....
Rocks and Minerals (rock types, growing crystals, etc.)
Soil (what makes soil?, digging into soil layers, etc.)
Water (the water cycle, where water goes, etc.)
Earth Changes (weather, erosion, etc.)
Resources (renewable and non-renewable, recognizing and classifying, etc.)
Pollution (air quality, water rights and responsibilities, etc.)
Earth Rocks was written for grades 4-5. Although my oldest homeschooler is 3rd grade I was able to adapt these lessons easily for my 2nd grader and kindergartner to use. Most of the topics were easy for a younger child to understand, I plan to revisit some of the lessons later on and do more of the activities that I felt were at a higher level.
One thing they enjoyed a lot were the rubber band books that accompany each topic. These consist of a couple of printed pages that you fold and then add a rubber band to hold the pages together. The kids got to color the pages of their little books as I talked about that day's subject. A hands on project and a notebook page or two is also used with each topic. Since my children are younger I filled in the notebook pages for them as they gave me their answers.
Earth Rocks is a huge 332 page softcover book, and includes a CD with all of the reproducible pages on it for easy printing (YES!) and a materials list at the end of the book. Most of the items needed are common household things or are inexpensive to buy. A few things needed for the activities, such as a
rock and mineral set
for this particular book, are things you will want to purchase, and are available from AIMS or you can purchase them separately.
I love how easy this curriculum is to use. I love that it is hands on and not just reading from a textbook. I love that my kids enjoy science and are always excited about science days. This book could easily cover an entire year of science, so the price is very reasonable in my opinion. Especially since the book is non consumable and I can use it again with my younger children. That is always a big bonus in our home!
I do however have one warning with using this book. It is not a Christian resource, and there are mentions about the earth being millions of years old. We teach creation and young earth in our homeschool so I had to watch what I was reading aloud and make notes in the book to avoid that. The entire book is not written this way however, we were able to use quite a bit of it without any problems. Just so you know!
You can purchase Earth Rocks for $29.95 from
The AIMS Store
.
Read what other members of The Homeschool Crew thought about this and other products from AIMS!


Disclaimer ~I received this product at no cost in exchange for an honest review after using it in our homeschool. No other compensation was given. All opinions expressed are my own.