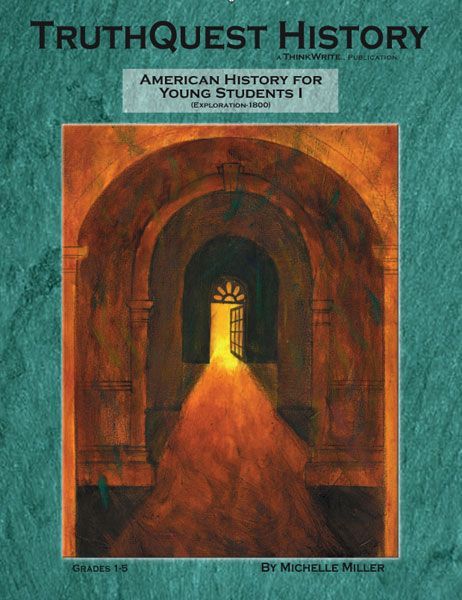 I hated history when I was in school. HATED it with a passion! I would have rather been babysitting my baby brother and doing dishes than be in a history class. That is saying a lot!
When I was first called to homeschool my children I worried most about teaching history. I didn't want to bore them to death as I had been. I didn't want to teach it at all, the memories were too awful to think about.
History is the #1 reason we began using the Charlotte Mason method and using living books to learn history. I couldn't believe it, history was actually interesting! My kids have never complained about history at all, in fact they ask me to read it to them.
That being said, without some sort of guide to go by, our history lessons have sometimes been a little random. We read a little here and a little there. When I was offered the chance to review
TruthQuest History
through The Homeschool Crew I was excited!!
We chose American History for Young Students 1. This particular guide covers Exploration to 1800 and was written for grades 1-5.
Not only does
TruthQuest
offer a guided way of going about teaching, it also has wonderful lists of books, so many books. I like books. A lot. We own plenty, many of which were on
TruthQuest's
lists. The guide also puts in a warning for us Moms who tend to want to read every book on a book list. That isn't necessary at all, you pick what books YOU like best from the lists and use them as YOU like.
Now here is the best part about these guides, before each section there are words in bold letters for me to read to my kids. This ties in history with God's plans and shows us how God has had His hand in every part of it, from creation till now. We are encouraged to think and look for ways God's plans have come to be throughout history.
I love that I can use this curriculum for all of my children, we can do it together as a group. My kindergartner enjoyed the history lessons just as much as my 2nd and 3rd graders did. I love that you get a whole years worth in one volume. I love the extensive booklists, and the commentaries given about certain books that may have questionable content so I can choose to avoid that part if I wish. I like that many of the recommended books are available for free through google books or kindle because they are older books that are no longer under copyright. Older books are better in my opinion anyhow! Lastly I LOVE the ease of use this curriculum offers. I was literally able to start the next day after reading through a little to get familiar with the book and choosing what books we would read from for the first lesson.
The only drawback TruthQuest had for me was that sometimes it wasn't so easy to find a book to use. Our library is very small and although I could use inter library loan to obtain the books I am not that organized or prepared to always do that. If you have a good library system or plan ahead better than I do this shouldn't be an issue for you.
There are many different guides to choose from on the
TruthQuest website
. Each guide costs $24.95 for a print version or $19.95 for a PDF download. You cant beat that price for a whole year of history! Take a look at the
sample pages
to see if TruthQuest would be a good fit for your family.
Read what other members of The Homeschool Crew thought of TruthQuest History!

Disclaimer ~ We received this product at no cost in exchange for an honest review after using it in our homeschool. No other compensation was given. All opinions expressed are my own.