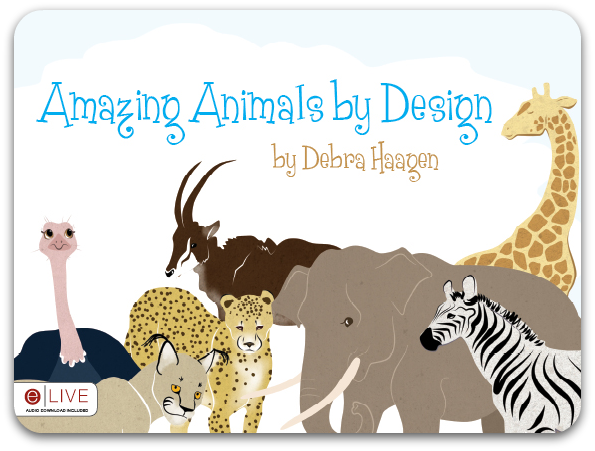 This review has been such a blessing to me for two reasons. First of all, it is one of my dreams to someday write and publish a children's book. A Christian children's book would be even better. This book combines both of those elements, and it was written by a fellow homeschooling Mom and member of The Homeschool Crew,
Debra Haagen
. How exciting!! She gives me so much inspiration and hope that someday I can also achieve my goal.
Amazing Animals By Design tells a sweet tale of two kids who visit a zoo with their family and learn about how each animal they see was designed, yes created, by God Himself!
It is explained how each animal they saw was designed for a special purpose. They were made with all the tools they need to fulfill that purpose, including obtaining food, protecting themselves, and surviving in their natural environment.
The book goes on to explain how God also designed us in His image, and we were created with a purpose too. We are no accident!
I love the message delivered in this book! It was written just for young children (K - 3rd grade) which is just where all of my little ones are right now. My children enjoyed this story, could understand the concepts and had plenty of questions after we read it. It provided a great tool for starting conversations about creation and the thought and love that God used when "designing" each and every creature on Earth, including us!
You can purchase
Amazing Animals By Design from Tate Publishing
for $8.99 (paperback) or download a digital version of the book for $7.99.
Debra's own webpage at Tate Publishing
just went live, where you can learn more about her and the book.
You can show support for Debra Haagen by liking her page on
facebook
, and visiting her blog called
Noteable Scraps
to read about her journey to becoming an author. The
Amazing By Design Blog
is another place to read more about Debra and her book.
Read what other members of The Homeschool Crew thought of Amazing Animals By Design!

Disclaimer ~I received a digital download of this book at no cost in exchange for an honest review after reading it with my children. No other compensation was given, and all opinions expressed are my own.