Library and Educational Services
is a family business serving teachers (including homeschool teachers!), libraries, churches, and resellers. They offer an amazing selection of books, CDs, DVDs, games and more at discounts from 30% - 70% off every day. You can sign up for an account for free
here
.
One of the products they offer are the Go Science DVDs with Ben Roy. We had the chance to review 2 of them, we chose Volume 3 and 6.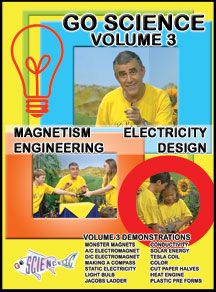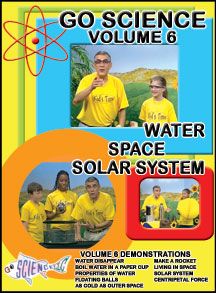 Each DVD contains several science experiment demonstrations by Ben Roy with kids from the group assisting. They were originally made for a Christian television station. After each demonstration Ben says, "Every time we learn something about science, we learn something about our Creator God!"
The kids were quite fascinated by these DVDs and enjoyed watching them. I was glad that they could see some neat things that they cannot see at home. We don't have tanks of gasses for making a rocket launch or a Jacob's Ladder lying around the house.....
Volume 3 lasted just about an hour and Volume 6 just over half an hour, but you can watch in segments that last just a few minutes each if you want to. My kids wanted to watch the entire thing every time. They are at the perfect age for these DVDs right now with my oldest homeschooler being 8. I think older kids might find parts of it to be on the childish side. Watch that sample video above if you didn't already to see what I mean.
Overall I give Go Science! a big thumbs up for being Creation friendly, for giving my kids an entertaining (and safe) way to learn about electricity and other subjects without making any more work for me. Although my son is still begging to make his own rocket in the back yard! Hehe!
You can purchase the
Go Science DVDs at Library and Educational Services
for $8.97 each or $47.95 for the set of all 6. They also carry many many other great books, DVDs, games, and more at a discount! They have regular specials, so sign up for their newsletters to find about the sales.
Read what other members of The Homeschool Crew thought of Go Science!

Disclaimer ~ We received these DVDs at no charge in exchange for an honest review after using them in our homeschool as a part of The Homeschool Crew. No other compensation was given. All opinions expressed are my own.