Do you love history? I do! I didn't like it when I was in school, but that was before I discovered living history books and started really learning how interesting history can be. Too bad I was an adult before I figured that out. My kids have the advantage of learning history through great books and they love it already. What a blessing!
Heritage History
has made it their mission to make old fashioned history books, written for young readers, easily available. The complete text of every book in their library is available to read directly from their website. Both printable and e-reader versions are available in the
Heritage History Store
.
We chose Young Readers because it is full of easy to read stories from many different civilizations. It contains 86 books and more! We were able to use quite a few of them to supplement the history we are reading this year. I have already been picking out books to complement our studies for next year since our school year is nearly over right now. Heritage History has been a great help in my lesson plans for next year.
What makes Heritage History so great?
They have taken older books published before 1923 that are now public domain and formatted them perfectly to be easily read on electronic devices. Yes, many of these books are available to download for free online, but I have found many of these free versions are not formatted well at all, and pictures and other helpful resources are sometimes missing. You also have the advantage of using the Heritage History books in many different ways.
As seen in the picture below you receive 3 versions of each book. Just insert the CD in your drive and follow the instructions. You can then read the books on your computer, or send them to your kindle, nook, or other e-reader device. You can even
print and bind them yourself
if you would rather have physical copies of the books.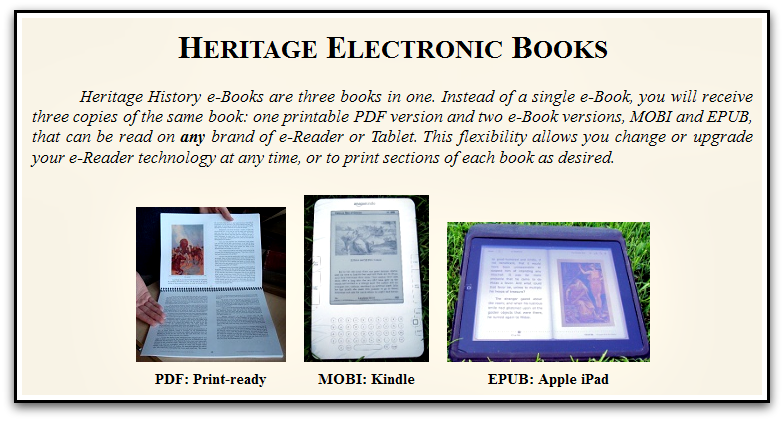 What I like about Heritage History.....
We have satellite internet so we have very limited bandwidth every month. Having these books available on CD is a real blessing for us. There was nothing for me to download.
Putting the books on my kindle was easy, and since I don't have to store all the books on my computer I can add books as I need them. I stay better organized that way.
I love having the option to print from the books. Sometimes I would like the kids to be able to read for themselves or have a picture for their history notebook. That isn't possible with most e-books.
The stories are enjoyable and interesting for both the kids and myself.
Heritage History Young Readers
is a complete illustrated text of 86 books as well as timelines, reading recommendations, short biographies, historical images and a ready to print teachers guide. All that for just $24.99.
Other titles available
include Ancient Greece, Ancient Rome, British Middle Ages and British Empire.
Be sure and sign up for their newsletter, they have sales and specials frequently as well as contests to win prizes. Right now they have a special
buy 2 get the 3rd free sale going on
!

Disclaimer ~ We received this product at no cost in exchange for an honest review after using it in our homeschool as a part of The Homeschool Crew. No other compensation was given. All opinions expressed are my own.