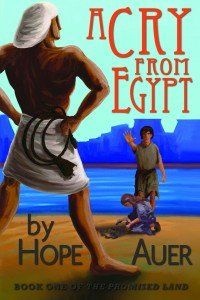 A Cry From Egypt
is the first in a series of historical fiction published by
Great Waters Press
. It is written for ages 8 and up. I read it aloud to my 9, 8, and 6 year olds. They are already familiar with the story of how God used Moses and Aaron to help the Hebrews escape from slavery in Egypt. This story uses historical facts from the Bible, and adds fictional characters to give readers a different perspective about the plagues, how Egyptians treated the Hebrews, and vice versa.
The story centers around Jarah, a 12 year old Hebrew slave girl. I loved how Jarah showed compassion for the Egyptians as they were going through the hardships of the plagues. Even after all the hardships her people had to face, she was able to see the Egyptians as people in need of God. In the beginning of the book she had some serious doubts about whether Yahweh is the one true God. (Yahweh is the word used for God at this time in history. I had to explain this to my kids right away.) Jarah's father believes and trusts in Yahweh completely, but her mother worships the Egyptian gods and would prefer that her children did too. This caused some conflict between the mother and father, and during these parts of the story I could tell my daughter was troubled by it. It is an essential part of the story though, and I cannot wait to read future books to see how the mother reacts to leaving Egypt.
Book 1 ends with the Hebrew nation packing up to leave Egypt. I am very excited about the future books Hope is writing for this series! I love her writing style, the story flows seamlessly and we could all imagine the story in our minds as I read it to them.
I had to do a lot of explaining while reading this book to the kids. They had a hard time imagining a child so young being a slave and doing all the work she was required to do. Children are also beaten by the Egyptian overseers and a young Egyptian girl cares for her baby brother because her father is a drunk. I feel like my kids were old enough to hear these things because the real world is all around us. It reinforces just how much our world is in need of God and prayer. There is a lot to be learned from this story about faith, patience, forgiveness, perseverance, love, and trusting in God even in what seems to be the worst of times.
I believe the hardest part of the book to read was the Passover. Imagining the agony Egypt suffered when they lost every firstborn son had me in tears. It was a very sad reminder that sin has consequences.
There is one thing I wish was included in the book, a pronunciation guide for the names. It is a pet peeve of mine to say someones name incorrectly, and I felt like I wasn't saying the names properly as I read them.
I highly recommend using this book as a read aloud with younger children so that you can stop and talk about these issues as they come up in the book. If your child is older and reads it himself, I suggest you also read it, and discuss it together. Simply because you will love the story yourself, and time spent in discussion with your child is always time well spent.
A Cry From Egypt ~ Book 1 of The Promised Land can be purchased online at
http://acryfromegypt.com/store/
for $12.95. Shipping is included in the price.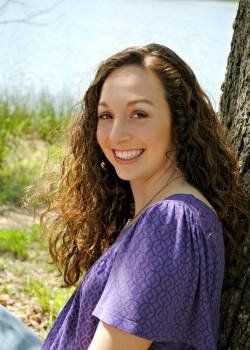 Hope Auer
is a homeschool graduate. That fact alone first attracted me to read her book. I love hearing success stories about homeschoolers because it encourages me to keep going and not give up when teaching my own children.
Hope started this book as a homeschool assignment when she was a teen. Over the years she has worked on it and improved on it. I enjoy reading her
blog
, she shares a lot about her struggles and the reality of writing a book to be published. She also offers tips and guidance. If you or your children are wanna-be writers, you need to be reading
her posts
!

Hal and Melanie Young are the publishers at Great Waters Press, and also the authors of
Raising Real Men
. Find them on facebook at
http://www.facebook.com/raisingrealmen

Members of the Homeschool Crew also reviewed another book from Great Waters Press titled,
Children in Church
. Click below to read more reviews of both books.

Disclaimer ~ I received this product at no charge in exchange for an honest review. No other compensation was given. All opinions expressed are my own.