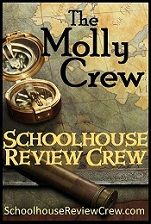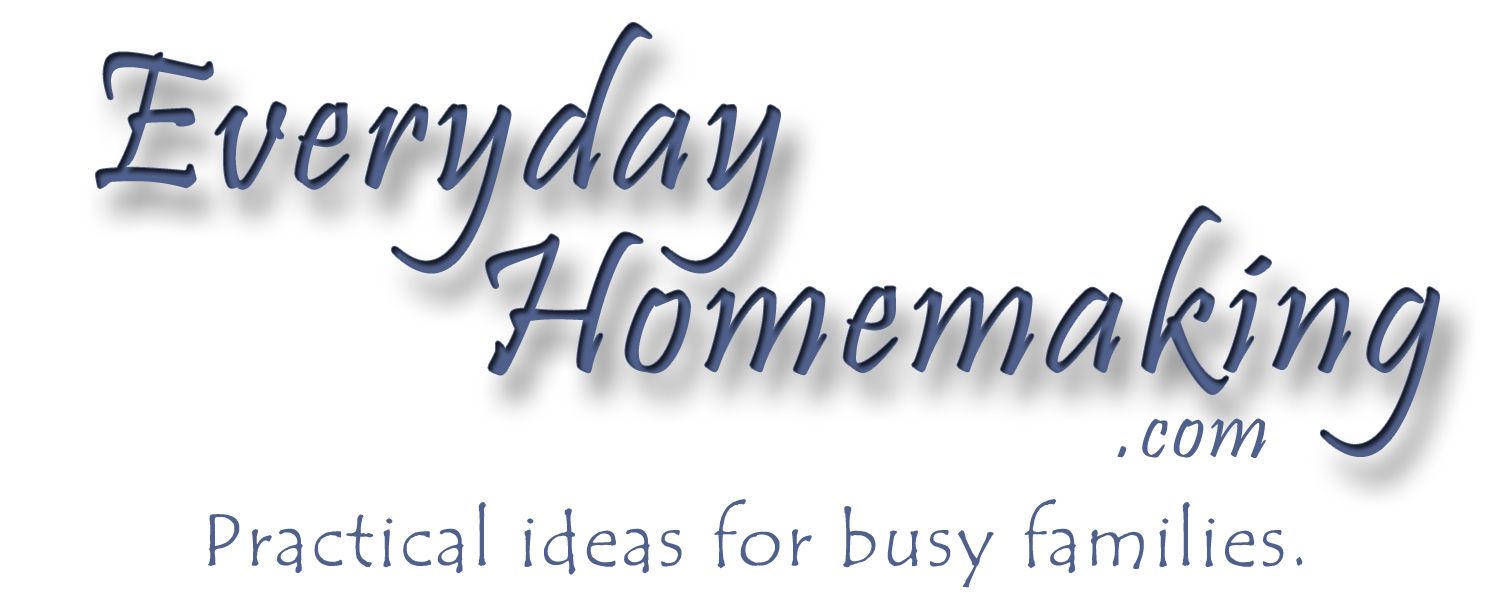 I enjoy cooking so I have many many cookbooks around here. It's a good thing I like it since my house is full of people who like to eat. When I had the chance to review Everyday Cooking ebook from Everyday Homemaking I was excited!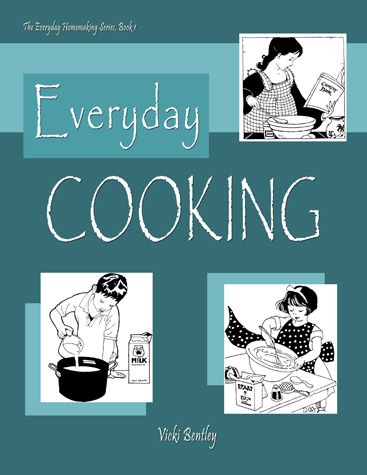 A few years ago I became very aware that we were not eating healthy in our home. A lot of prepackaged foods had made their way into the house and I used the excuse of "not having time to cook" to justify buying that stuff. Then came the financial struggles that forced me to do everything I could to save money.
I began to search out healthy "from scratch" recipes using real food ingredients. I sure wish I had found Vicki Bentley's website back then! It would have been a great place to start. Not every recipe in this book uses real food ingredients, but substitutions can be made and she gives suggestions for doing this.
Vicki
is also a mother of 8, and has been a foster mother to many children over the years. She has had a lot of experience cooking for crowds and using frugal, real food ingredients and she shares generously from her knowledge in this book.
There are more than just recipes. Vicki gives tips on shopping smarter, and thinking ahead to future meals and preparing for them. Tips for saving time as well as money are sprinkled throughout. This book has encouraged me to get more organized with meals using the monthly meal planning charts, and with school starting back up it was perfect timing. Vicki includes lists of skills to learn if you want to use this book as a home economics course. When my girls are older I will certainly use it that way, for now they just help however they can.
Although I have learned a lot myself through trial and error I still found plenty of new ideas to try in Everyday Cooking. My favorite new recipe was for refried beans using freshly milled bean flour and homemade taco seasoning. I usually make refried beans from home canned beans but this method is much quicker and easier
if
you have a mill in your home. The taco seasoning was delicious and SO much cheaper than buying those packets in the store, not to mention healthier.
Another part I found very helpful was her recommendations for
kitchen servants
(cookware, grain mills, mixers) that will last for many years. I now have some stainless steel cookware on my wishlist!
Was there anything I didn't like? Well, I had to do a lot of recipe modification since I am a vegetarian, but most of you don't have that issue. I'm very good at modifying most recipes to use real ingredients and omit meat anyhow so that wasn't a problem for me. I have the eBook version, so I sent it to my kindle to make it easier to use in the kitchen. I
wish wish wish
there was an actual kindle version so I could skip to recipes using the index. The page numbers do not match up when you send it to kindle, so locating a particular recipe took some searching. You can print the eBook version for your own personal use. The best option in my opinion is to get the
100 page coil bound glossy cover version for $17.99
. The
eBook version is $14.99
.
See some sample recipes here, and let me encourage you to try the bread!
Read what other members of The Molly Crew thought about Everyday Cooking and The Everyday Family Chore System from Everyday Homemaking HERE.
Disclaimer~ I received this ebook at no cost in exchange for an honest review after using it in my home. No other compensation was given. All opinions expressed are my own.