We received 3 games to review from
playPlay Games
, PaintPlay, StoryPlay, and ColorPlay. What fun the kids and I have had with these games!

The day these games arrived the kids had them out of the box and playing in minutes. The directions for each game are very clear and start up was easy. There are different ways to play each game, I liked having that flexibility. Another positive thing about these games is that everyone wins together. So it isn't a constant competition with tears at the end for the sore loser. playPlay games have the players work
together
. In the end you will have a work of art, a creative and hilarious story, or a colorful puzzle to enjoy as a group.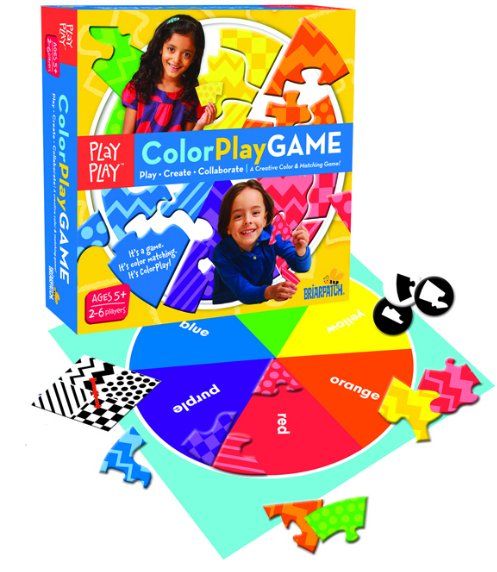 ColorPlay was the first game we tried out. It is for ages 5+ and for 2-6 players. Contents include a 20"x20" color wheel mat, 24 double sided color and pattern shapes, 24 shape it cards, and 1 spinner.
There are 3 ways to play. Make a pattern and color wheel puzzle, match up the Shape It cards, or stack and build with the pieces.
Although it says ages 5+, my 3 year old loved this game! It doesn't involve reading, and she is excited about learning her colors. She is good at matching, and the pieces are large so putting together the puzzle was easier for her.
My 6 and 7 year old also liked playing this game with her. I loved seeing them play together and laughing. Mom gives this game two thumbs up! The only drawback to this game is the color wheel mat is made of paper. I really wish this was laminated so it would be more durable for play. The puzzle pieces and cards however are very sturdy.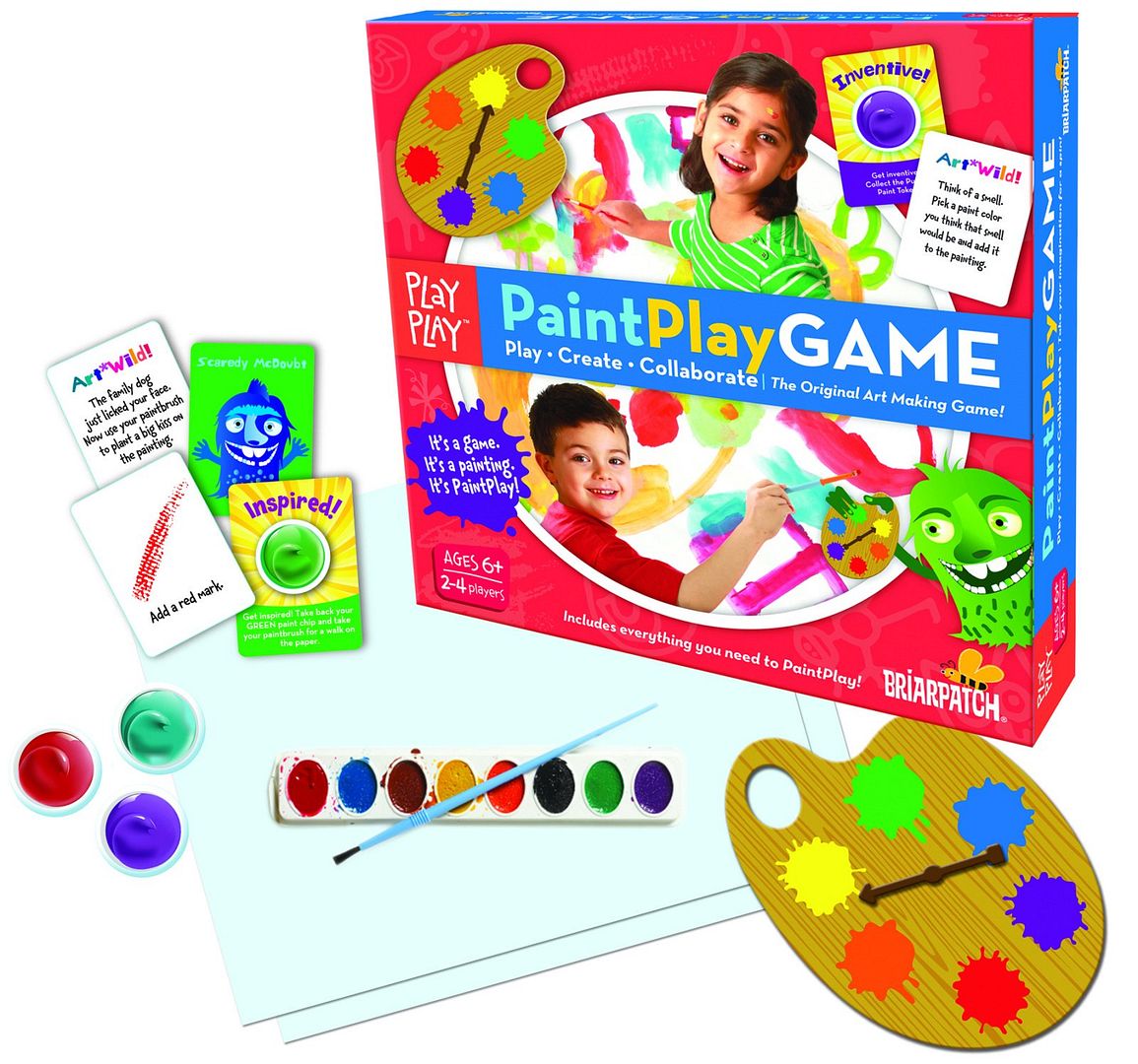 PaintPlay was the all time favorite for my 4 youngest ones. What kid doesn't love painting? This game does involve reading, it was designed for ages 6+ and for 2-4 players. Contents include a paint tray, 2 paint brushes, 4 sheets of paper, 1 spinner, 40 action cards, and 6 paint tokens.
To play, take turns drawing cards and do what the card says. By the time you are finished, you have an original piece of artwork created together by everyone. This game also encouraged my kids to create their own works of art by themselves.
Be aware that you will need to have more paper on hand, as well as additional watercolor paint. The supplies included were used up the first day they played, and of course each kid wanted their own paintbrush.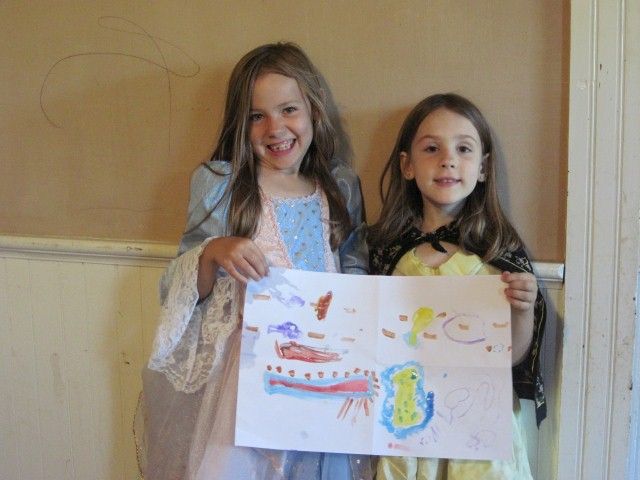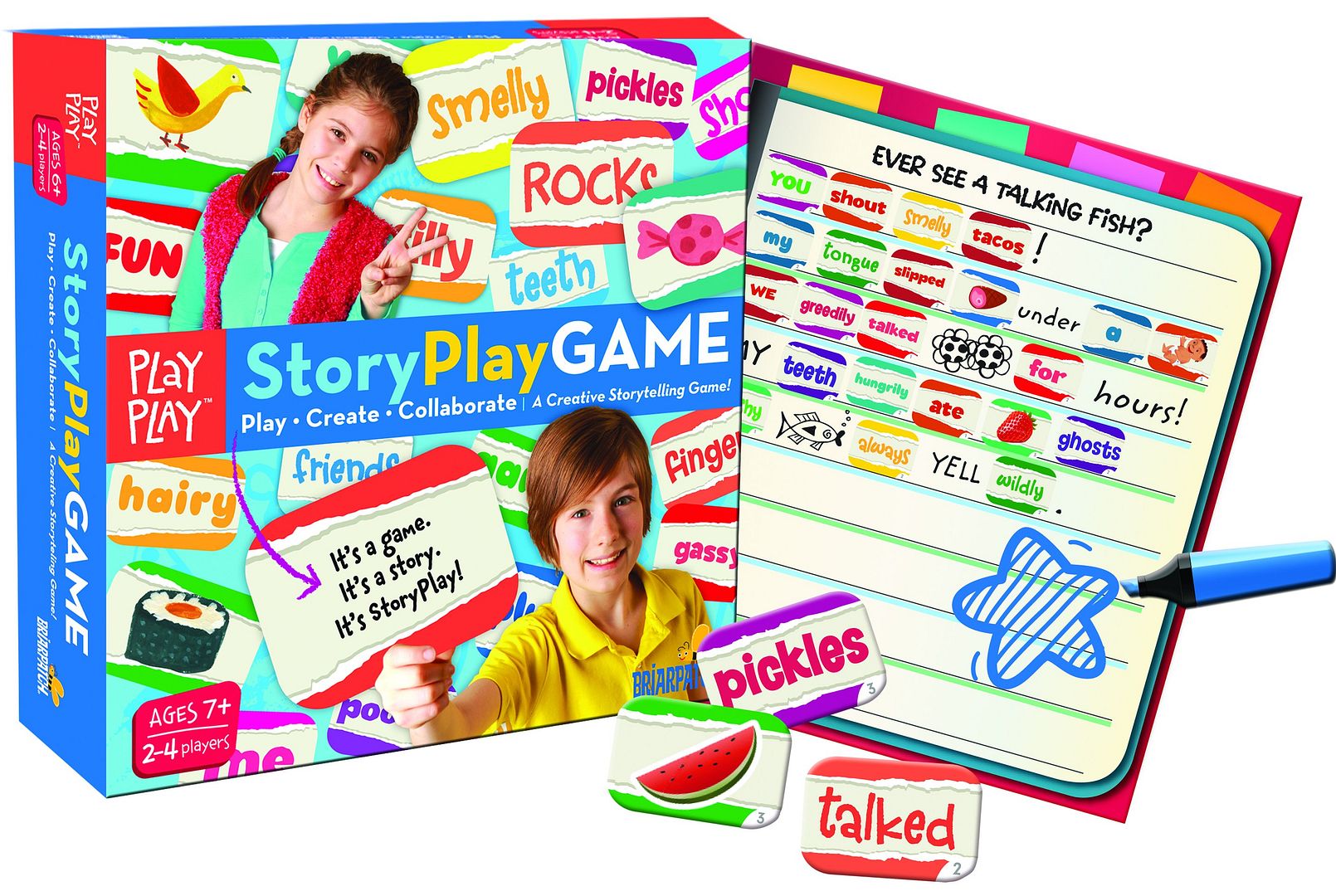 StoryPlay was the hands down favorite as a whole family game. We laugh so hard every time we play!
Contents include 125 double sided Word Tiles, 1 double sided dry erase board, and 1 dry erase pen.
It was created for ages 7+ and 2-4 players, but with a little tweaking many more players can play. That's what we Moms do best right? Make it work!
Although this game involves reading and writing, with my help my 6 year old was able to play too. This game encourages language development, creativity and imagination. You can also sneak in some grammar and punctuation practice.
Players pick Word Tiles and use them and the marker to create silly sentences. Combine your sentences to create hilarious stories. It is so fun to see what each person can come up with! Even my teens will join in on this game.There are other ways to play also, but this was our favorite.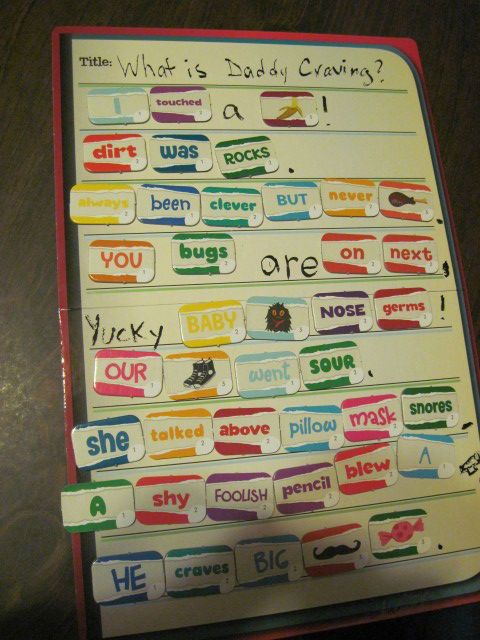 playPlay Games
will be available to purchase from retailers such as Barnes and Noble,
Toys R Us
, and other specialty stores throughout the US and Canada. The average price is $19.99
You can also find PlayPlay on
Twitter
and
Facebook
.

Disclaimer ~ We received this product at no cost in exchange for an honest review after using it in our homeschool. No other compensation was given. All opinions expressed are my own.