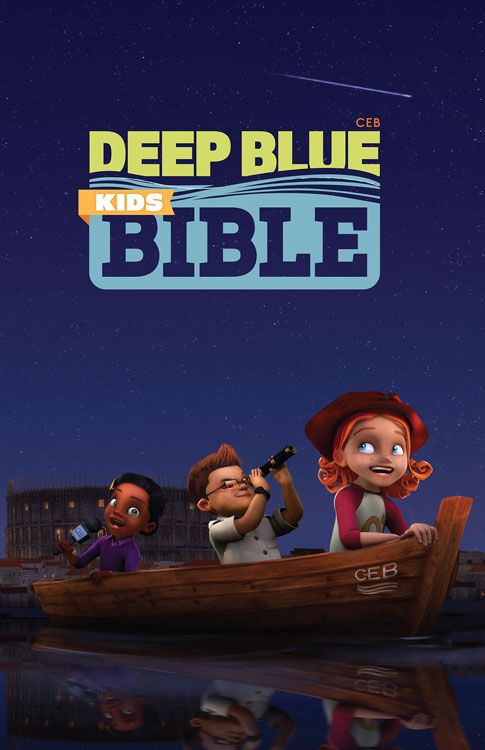 There are many different bibles out there for kids, but we have found this one to be extra special. Whats so special about the
Deep Blue Kids Bible
? Well, first of all it is written in Common English (
CEB = Common English Bible
) especially for ages 7-12. The verses are so much easier for kids to read themselves. The English language has changed so much over time, and although I believe the older versions of the bible are beautiful to read, they can be very hard for children to understand. I really appreciate this fresh new translation that fits in better with the language we are speaking today.
I began using the Deep Blue Kids Bible for our bible lesson each morning as we start our homeschooling day. We look up our daily verse or passage and discuss its meaning. This bible contains four different kinds of "In Text Notes" that are very helpful!
"Sailboat notes help us grow stronger with God by pointing out positive traits we can have in our lives.
Umbrella notes give us help for difficult times by explaining how unhappy emotions and traits aren't good for us.
Lighthouse notes help us develop rock solid faith by discussing the basics of following God for life.
Life Preserver notes give us answers to tough questions and hard-to-understand sections of the Bible."
I love reading these sections aloud to the kids. I have watched their faces light up as they start to understand what the passage really means. They suddenly "get it" and this really excites me, especially when I see them starting to apply Bible truths to their lives and think about their words or actions in everyday life.
I love the notes that help explain what unfamiliar words or old customs mean. You can literally open this bible up and have a little study just by reading these boxes of information along with the verses. I, myself have learned a great deal by reading these boxes too.
Read some sample pages and
see what I'm talking about here
. Or watch an
animated trailer video
here.
Kat, Edgar, and Asia are the three kids in the boat above who help lead your child through this bible. In special sections called
"God's Thoughts / My Thoughts"
the characters are featured in short devotions that help explain how the Bible applies to life today.
Other features include..........
Did You Know?
Bible trivia
Navigation Point
memory verses
Bet You Can!
reading challenges
4-color throughout
Presentation page
In-text subject headings
Bible dictionary
Eight full-color maps exclusively from
National Geographic
9-point type
The Deep Blue Kids Bible comes in 5 different cover choices.
Hard cover, Image Flex, Decotone Midnight Splash, Decotone White Splash, and Imitation Leather Burgundy.
We received the Image Flex, and I think it is very sturdy, and the color is rich and beautiful.
We give this bible a 5 star rating for being easier to read and understand, interesting for kids (and me too!), having such great features that add to our bible studies, and for being sturdy and well put together. I think it would make a perfect gift as well.
The Deep Blue Kids Bible has a suggested retail price of $26.99. Click on "
Where To Buy
" to see different options for purchasing. The current best price (as of this writing) is at
Amazon.com
for $17.81 with free super saver shipping if your purchase totals $25.00 or more.
Christianbook.com
has it for $14.99 but shipping is extra. Check your local bookstores too!


Disclaimer ~ We received this product at no cost in exchange for an honest review after using it in our homeschool. No other compensation was given. All opinions expressed here are my own. Other opinions may vary. Click the banner above to
read what others thought
of this product.