Samson's Classroom
is an online membership site that gives your children in grades K through 5th practice in
Sight Words, Spelling, and Reading
. There is nothing to download to your computer, you simply log in anywhere you are to use the website. This was especially helpful to us because the kids were able to use Samson's Classroom while we were at the library.
Here you can see sample pages from the
Reading with Samson
section. Choose a level to start at, and then your child reads a short story and answers questions about what was read. This is really great reading comprehension practice. My 8 year old daughter enjoyed this section, my 9 year old son didn't like it as much, but he is a reluctant reader unless it is something that really interests him. My 6 year old daughter needed my help with this section.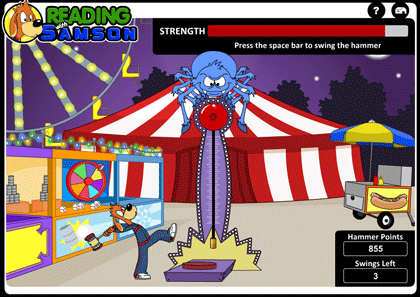 Another reading game.....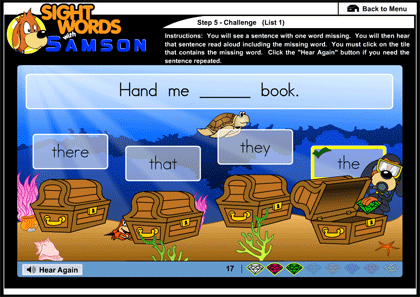 The
Sight Words with Samson
section was voted the
MOST FUN
part of this site by all 3 kids. I don't believe they realized how much they were learning as they played it. Even my reluctant 9 year old asked to play this. I have noticed improvement when reading aloud since he began playing the sight word games.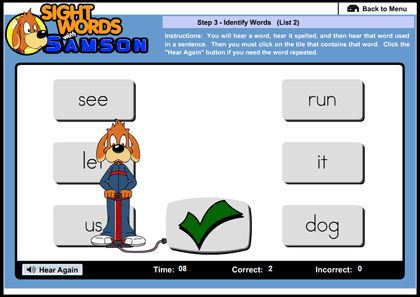 Another sight words game.....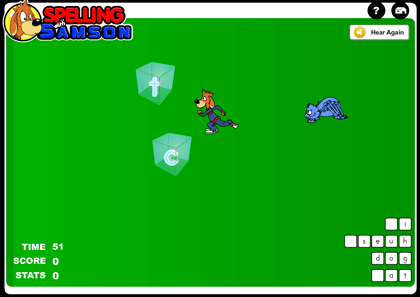 Spelling with Samson
can be customized to give practice with the spelling words we are using each week. I also sneak in words I know they have troubles reading aloud. My 9 year old proclaimed this was the best way ever to study spelling words. My 8 year old was also very enthusiastic about practicing spelling this way. Their test scores have proved it to be an effective method for both of them.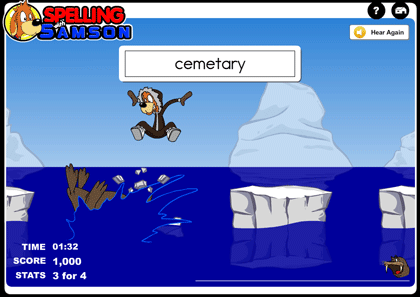 For my 6 year old I didn't customize her word list. She has not yet started a formal spelling program so I just let her play with the lists already provided to see how she would do. She did surprisingly well with 3 letter words.
My thoughts on Samson's Classroom.....
I think this is a good practice site, I would not use it as a substitute for a good solid language arts program. I am not a fan of "video games" but because these are educational I let them give it a go. I must admit I did see improvement in spelling and in reading comprehension with my 9 year old son especially. This format made learning and practicing fun for him. Must be a boy thing! The girls enjoyed it too of course, they both ask to play it just as often as he does.
I also want to mention the wonderful customer service that this website offers. If you have any issues they are FAST to reply to you and offer assistance. I was very impressed with the friendly people behind Samson's Classroom!
I appreciate the
extras that are offered
as well, including printable worksheets, lesson plans and awards for the kids.
Want to see more? Watch a
short video here
that explains how to use the site. You can also
try out a free demo
and play all 3 sections of the website before you buy to make sure it is a good fit for your child.
A family membership at
Samson's Classroom
is $50.00 per year for up to 4 users. A $30.00 per year option is available for just one student.
Classroom options
are also available.

Disclaimer ~ We received this product at no cost in exchange for an honest review after using it in our homeschool. No other compensation was given. All opinions expressed here are my own. Other opinions may vary. Click the banner above to
read what others thought of this product
.