I have always loved to read, spelling was a fun and easy subject, and writing seemed to come pretty naturally for me. I thought when I started homeschooling that teaching these things to my kids would be easy, I thought they would just pick it right up like I did. I couldn't have been more wrong!
Finding a language arts program that works well for my kids has been a challenge to say the least. We have tried many programs, and honestly I was afraid of trying yet another program, especially
Primary Arts of Language
(PAL) from
Institute For Excellence in Writing
(IEW). Just the name sounded complicated and scary to me. Is that weird? Yea well I am weird, so anyhow after reading a few raving reviews from others I took the plunge and dove headfirst into PAL with my 6 year old.
There are 2 components in the PAL program,
Reading
and
Writing
. You can use the reading by itself but if you want to have a complete language arts program you should use them both together. They compliment each other beautifully! The lessons are based on the teaching method Anna Ingham used called the
Blended Sound Sight Program.
The
Reading
set includes the following...
Nurturing Competent Communicators MP3 Audio by Andrew Pudewa
Poetry as an Integrator MP3 Audio by Anna Ingham
Intro to the Blended Sound Sight Program MP3 Audio by Anna Ingham
This set retails for $69.00.
Writing
set includes.....
Reading Comprehension MP3 Audio by Adam Andrews
Dictation, Narration, and Public Speaking MP3 Audio by Andrew Pudewa
The Four Language Arts MP3 Audio by Andrew Pudewa
Unit 3 in the K–2 Classroom MP3 Audio by Shirley George
Preparing the K-2 Writing Environment MP3 Audio by Richelle Palmer
This set retails for $89.00
Andrew Pudewa does an excellent job explaining how the PAL program works in this video.
I could write a book by going into great detail about this program, there is a lot to it and it can seem overwhelming when you first look at it. A friend suggested I first watch the DVD's that come with the program. She was so right, after watching I felt much less overwhelmed and I was ready to start preparing to teach. I spent a weekend putting together the first few phonetic games and reading over the first few lessons. I also gathered up the supplies needed for both myself and my daughter and put them in a little tote so they would be handy when we need them. Lastly I put all the other parts of the program into a nice lined basket we had to keep everything together and organized in one place. Both of those ideas were from that great friend mentioned earlier.
What does a typical day using PAL look like?
We begin our school day with prayer, and we do a few subjects together as a group. After I get my older kids busy with independent work I start working with my 6 year old by herself. We are currently on lesson 16.
Her lesson begins with poetry. I read a poem to her, this same poem is used for a few lessons in a row. We discuss it and do an activity such as underlining sounds she has learned in the words.
We then move on to journal time. I do the writing, she tells me what to write. Just a short sentence or two is fine, the lessons are supposed to be short and snappy to keep the child's interest high.
Then she completes a printing lesson page from the writing book. New letters are first practiced on a dry erase board. Letter stories were used in the beginning to introduce the letter sounds and also how to write them properly. I cant rave enough on how wonderfully this method works! I wish we had used this program from day 1 of homeschooling!
We read a story together, stories are included in the first few lessons, but any story can be used. We discuss the characters, the plot, etc. and she summarizes the story orally.
Back to the reading book, new sounds are introduced, games are played to reinforce the new sounds and to review ones already learned.
We then add stickers to the phonetic farm! She loves this part! We review the sounds already added that she has learned.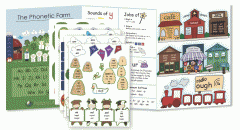 A fun worksheet is done at the end. She can do it by herself usually after I read the instructions. While she works on this I help or redirect the older kids. An hour or so is all that is needed every day. Later in the day we may get out the farm folder again and review, play a game or two, read some words or have a "spelling test" on the sounds she has learned so far. Soon we will finish up with part one and will add spelling lessons to her day.
All About Spelling is used in part 2 of the writing program. We are not quite there so I have not yet used it with my 6 year old yet. I did use this program 2 years ago with my older children and it was very easy to use and they enjoyed it and learned a lot. I'm looking forward to using it again.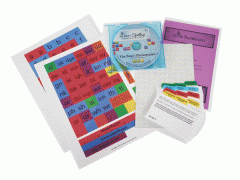 What I LOVE about PAL.....
The included DVD's are an excellent tool to help me prepare to teach. All confusion and feelings of being overwhelmed were wiped away.
The Teacher Manuals lay everything out in order, I simply follow the program and watch in amazement as my daughter learns!
The lessons are short, although there are many parts to each days work. She stays interested, is never bored, and if she does start feeling overwhelmed we can stop and take a break and come back to it later.
Side notes of encouragement are in the teacher manuals. They seem to be strategically placed to be read just when I need them!
PAL includes reading, writing, and spelling. It is complete and thorough.
The games are simple but so effective! Jill encourages us to make up our own games for other subjects too.
The student books are printable, so when I use this again in 2 years with my 3 year old all I need to buy is another Phonetic Farm folder. The games are re-useable too!
Is there anything I dislike about PAL?
Honestly no, it is THE BEST program I have ever used. In fact we ditched what we were using in the beginning of this year. I asked her if she wanted to use it too and she said NO WAY MOM!
My only words of warning are...
This program does require some prep time. Be prepared to spend a few days getting ready to use it.
You need a good printer and lots of ink to print the workbooks, but they do offer printed books as an option.
One on one time is needed in every lesson, if you have older or younger children try to find a time when you can get through at least part of the lesson without interruption. I have both so I do understand how hard this can be!

Disclaimer ~ We received this product at no cost in exchange for an honest review after using it in our homeschool. No other compensation was given. All opinions expressed here are my own. Other opinions may vary. Click the banner above to
read what others thought
of this product.