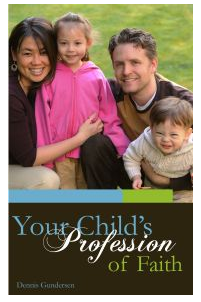 As a Christian parent, of course I want to hear my children say that they have accepted Christ as their savior. I want us all to be together someday worshiping God in Heaven. But how do you know if what your child is telling you is from his heart, or if they are just saying what they think others want to hear?
I chose
Your Child's Profession of Faith by Dennis Gundersen
to review with the hopes of answering that question. Dennis and his wife Naomi are also the owners of
Grace and Truth Books
. The
story
behind this business gave me comfort in knowing how much this family loves the Lord and hopes to share knowledge of Him through the books they publish and sell.
Chapter topics include...
1. Putting the issue on the table
2. A parent's greatest concern
3. The intellectual immaturity of children
4. The changeableness and instability of children
5. The likelihood of deception in children
6. Childhood: A time for parent cultivation
7. The manifestations of faith
8. When your child is ready for baptism
9. Some concluding counsels
Helpful suggested questions for pastoral interviews with children about baptism
Common questions parents may ask regarding the baptism of their children
Valuable excerpts from Andrew Murray (1828-1917)
Recommended additional reading
The first 5 chapters raised a lot of questions for me about whether a child could be saved at a young age, although Dennis does assure throughout these chapters that this is very possible. In chapter 7 he outlines how we can expect a change in how a person lives his life after making a proclamation of faith, in both adults and children. I have seen this change in some of my children, and this makes my heart so glad!
The book also deals with issues about baptism, and I appreciate this. One of my children made a big deal about wanting to be baptized after seeing a friend do it. I wanted to be sure this was not the reason why they wanted to do it, just to feel like they "fit in" or are doing what the other kids were doing. As it turns out, for this child in particular that was the reason, because after a little while they stopped talking about it.
I believe this book is very helpful in understanding what to look for, and also dealing with the many questions we have as parents who only want the best for our kids, so we want to be sure our child's profession of faith is genuine. Pastors would enjoy reading this book as well. After reading the book I realized some pastors are pressured into baptizing children who aren't ready just because the parents are. Every church library should have a copy of this book for the parents to read!

Your Child's Profession of Faith is available in a 119 page
paperback for $7.50
or in
ebook format for $5.50
.
Many other selections from Grace and Truth Books were reviewed by members of The Schoolhouse Review Crew.
Click here to read their reviews.

Disclaimer ~ We received this product at no cost in exchange for an honest review after using it in our homeschool. No other compensation was given. All opinions expressed here are my own. Other opinions may vary. Click the
banner
above to read what others thought of this product.