Hola! (Hello!)
Three of my older kids have had Spanish classes. They get a kick out of speaking in Spanish to each other in front of the little ones, hoping they don't understand what they are saying. When I asked them if they would like to learn some Spanish using Song School Spanish from Classical Academic Press I heard a resounding YES! Two years ago we used Song School Latin and they loved it, they still remember those songs today.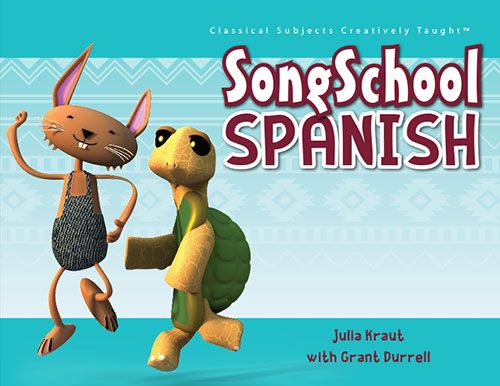 The Song School Spanish
student book ($24.95) is a gentle yet very effective way for young children to learn over 100 commonly used Spanish words. It was written for Kindergarten through 3rd graders, but my 4th grade son also enjoyed these fun lessons.
The workbook includes 30 weekly lessons with lots of fun activities. Each chapter introduces a few words at a time, and the workbook includes a CD in the back full of 42 catchy little songs and chants to help kids memorize the words. At first the songs were a little hard to understand, but using the workbook and CD together so we could
see
the word and
pronounce
it correctly was a huge help.
See samples of the Song School Spanish workbook here.
Hear samples of the Song School Spanish CD here
. (Scroll down for links.)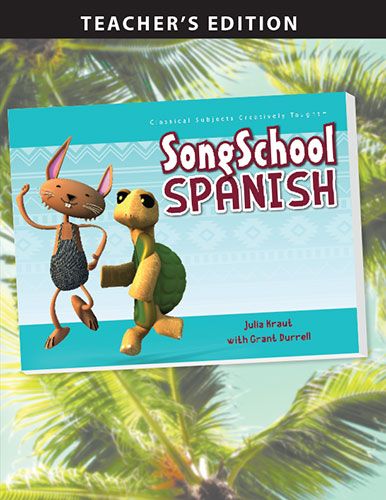 The Teacher's Edition
($24.95) has every page in the workbook with the answers, teaching tips, PLUS extra puzzles, activities, and games in the back that you can copy and use in addition to the student book.
See samples of the Teacher Edition here.
For more practice there is a FREE website called
Headventureland
where students can play a game called
Flash Dash.
Spanish Amigo Match Game
is another option for practicing. See
samples here
.
A
Bundle Package
is available for $66.95 as well.
We used Song School Spanish as a fun addition to our daily studies. The suggested schedule is 3 days per week but we did a little review every day. The kids looked forward to getting their work done so they could pop in the CD and sing along. They were not as interested in doing the workbook pages as I had hoped. My 6 year old isn't advanced enough yet to do all of the fill in the blank pages. She was glad to see the pages with traceable words though. My 8 and 9 year olds enjoyed the extra puzzles. Puppet shows have been a great way to practice speaking Spanish, the puppets can greet each other in Spanish, and I challenge them to use as many Spanish words as possible in their "play". I also made flash cards for my older kids to drill each other with so they would also learn how the words are spelled.
I think the age range of K-3 is accurate, my 6 and 8 year old enjoyed the workbook in different ways but both are learning from this program. My 9 year old would probably enjoy a higher level workbook more, but he still liked the songs and the activities we do. Even my 4 year old has learned the songs. I plan to continue using it since they enjoy it so much.
I recommend
Song School Spanish
for those wanting to introduce Spanish in a gentle and fun way to their younger children. If you have kids a little older take a look at the next level,
Spanish for Children
.
Adios! (Goodbye!)

Disclaimer: I received a free copy of this product through the Schoolhouse Review Crew in exchange for my honest review. I was not required to write a positive review nor was I compensated in any other way. All opinions I have expressed are my own or those of my family. I am disclosing this in accordance with the FTC Regulations.