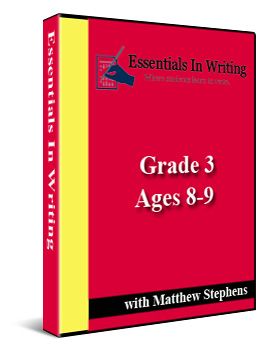 Writing is something I enjoy doing, but I have always felt intimidated teaching it to my kids. I have no idea why? I was very glad to have the chance to review
Essentials In Writing
mostly because the lessons are taught on DVD.
I chose
Essentials In Writing Grade 3
for my 8 and 9 year old because that is the ages it is recommended for. It turned out to be the perfect level! We started formal grammar lessons this year, but have went slowly so they wouldnt feel overwhelmed. Essentials in Writing seems to have picked up right where we left off but has taken them on to a new level because along with the grammar we also started the composition lessons.
Essentials in Writing is considered a full language arts curriculum, and I agree unless you have a child who is having a hard time with spelling. We continued our spelling lessons while using EIW. Matthew Stephens does a great job of explaining each concept in the DVD lessons. See a sample lesson from the 3rd grade level below...
The DVD does have a minor issue. The volume for the screen where you choose a lesson is very loud, while the volume for the lesson itself is low. This was not a real problem but I wanted to mention it.
Each lesson has a worksheet or two to go along with it, but only one worksheet a day is necessary. Some days they asked to do more and some days one was plenty. I really appreciate that the level of writing is not overwhelming each day. My kids are resistant to a lot of writing, but I had very few complaints while using EIW. It took an average of 30 minutes to complete a lesson, that is very do-able for us! EIW has suggestions for
how to use the program
as well.
What is taught on the DVD?
The
Table of Contents
can be found on the website. There are 2 DVD's, one contains the grammar (lessons 1-27) and one contains composition (lessons 28-52). I liked having them separated, some families may not need the grammar lessons or may use that part for review only. We used both parts at the same time because some of the grammar was review for us. You can see what each lesson is about in the
3rd grade syllabus
. See a sample worksheet from
Lesson 25A here
.
What I like about Essentials In Writing...
I love love love that the lessons are taught on DVD!
Matthew makes the lessons easy to understand and fun.
The worksheets are included and come in downloadable PDF form, I can use them again with my younger children. This is always a MAJOR bonus for us!
EIW is SO easy to use!
It is affordable! Each level is $40.00 and includes the DVD set and downloadable worksheets. That is very reasonable, plus I can re-use it so its an even better deal.
I feel like the lessons are gentle yet thorough, I have been very pleased with the entire program.
If printing is an issue for you,
the workbooks can be purchased for $20.00
each.
Essentials in Writing
has a program for grades 1-12 along with High School Elective courses. We have found such a good fit for our family, I plan to purchase 4th grade for next year!