I recently took an interest in knowing more about how the brain functions after my grandson was diagnosed with autism. I also have a child who has learning disabilities, so I was very thankful to be able to review a DVD from the
Family Hope Center
called
Understanding Child Brain Development
.
The Family Hope Center, founded by Matthew and Carol Newell, is an organization that desires to empower parents to heal their own children. They offer seminars all over the world to teach parents how to work with their children at home and improve brain function through certain exercises and other forms of brain stimulating activities.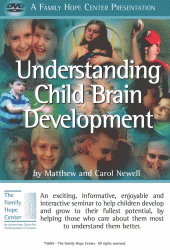 In the beginning of the DVD, Mr. Newell is introduced by Andrew Pudewa from the Institute for Excellence in Writing. He then describes in detail, and in words that ordinary parents can understand, how the brain works. He describes each part and its functions, he also talks about what part of the brain could be the culprit if your child has certain issues. He tells you things to do with your child to help stimulate the affected parts of the brain and increase its function. Activities like crawling can help so much according to them. Read more
about their approach here
.
I found the whole 2 hour + presentation to be very informative, although the seminar format in which it was presented got to be a bit tedious so I took many breaks and watched it in chunks. I would love to attend one of their
live seminars
. You can find more information about those at the
Family Hope Center website
.
I like that they look at a child's ability, not the disability. The goal is to determine what has caused a delay and treat the cause not the symptoms, and help the child catch up. They do not promise any kind of quick fix. It can take a while to see results as each child is an individual and is on a different level developmentally.
What The Family Hope Center Will Do to Help Your Child
from
The Team at The Family Hope Cent
er on
Vimeo
.
There are
many other videos here
to watch as well.
This DVD is just the beginning, it is more of an informative presentation and although many suggestions are given to try with your child you will need to either attend a seminar or make an appointment to have your child evaluated to get the full benefits.
To order the DVD for $19.00, please call 610-397-1737 or you can order
Understanding Child Brain Development
from IEW
.