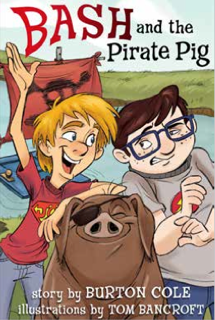 Bash and the Pirate Pig
by Burton Cole was written for boys ages 8-14, but it was my 9 year old daughter who really enjoyed reading it the most. My son loved the story but isn't the type of kid that will read a whole book independently. He would rather have it read to him. Either way this book is a good one! A wholesome story of summertime fun and lessons from the farmin' and fishin' book, also known as the Bible.
Bash, which is short for Sebastian, is a country boy living on a farm with his family. His cousin Raymond "Beamer" Boxby, who is from the city, comes to visit for the summer. He isn't happy about this, and would much rather stay indoors all summer and play his video games and snack.
You can just imagine all the crazy things that can happen in a situation like that right? From an attempt at cow tipping to adventures with a skunk, the crazy situations the boys and their friends get into will keep you laughing and shaking your head.
We live on a mini farm, and we have pet teacup pigs, so the title immediately got the interest of my kids. Its a good thing they aren't big enough to ride like Bash did!
I loved that during the course of the story, Beamer comes to know Jesus as his savior, and in the end the "summer of doom" he was dreading so much turns out to be the best one ever.
Bash and the Pirate Pig is a 224 page hardcover book and can be
purchased for $12.99 from B&H Kids Publishers.
A sneak peek at the next book in the series, Bash and the Chicken Coop Caper, is included too. This sounds like another great adventure! It is set to release in Spring 2014.
Would you like to win a copy of Bash and the Pirate Pig? Just fill out the rafflecopter form below.
a Rafflecopter giveaway
Disclaimer ~ This review is my own opinion and was done in exchange for receiving the book for free, no other compensation was given. The book being given away will be sent by Fly By Promotions, I am not responsible for any prizes not received by the winner.