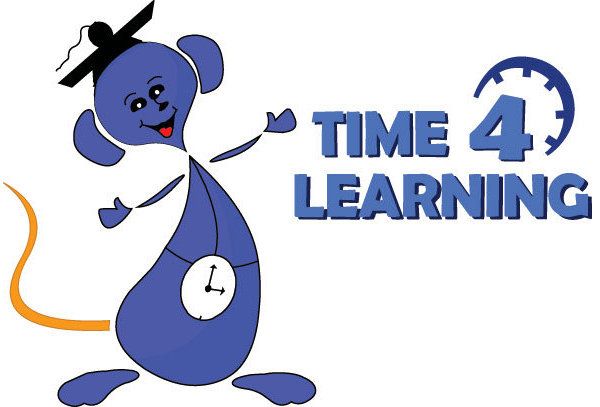 Time For Learning
is an online subscription based educational website for ages Pre-K through High School. It can be used as a stand alone curriculum, a supplement, after school program, or during the summer months to keep up with skills.
There is nothing to download so the program can be used anywhere you have access to a computer with internet. Each student receives their own login and password. Parents also have a section to log in to check on the childs progress. This is nice so I don't have to be right there watching as they work to see what they are doing.
I chose my youngest daughter Star, who is 4, to use the
Pre-K level
for this review. She received a 6 month subscription, and access to Pre K 1 and Pre K 2. All students have access to one grade level above and one below the level you choose. This worked out great because in some areas she was already at Pre K level 2, but in some she was still in Pre K 1.
In Pre K she gets to do activities in Reading, Phonics, Language Arts and Math including alphabet, colors, shapes, rhyming, numbers, weather, food, feelings, zoo, vehicles, tools, sports, human body, space, and garden just to name a few. She gets to pick what to work on each day, and as she finishes a topic a big green check mark appears over that subject. She can go back and do it again if she wants to, but Ive noticed she would rather tackle those unchecked boxes instead.
For older students there are lessons for Language Arts, Math, Science, and Social Studies. In our state this covers the subjects we are required to teach every year. The automated program even keeps records that I can use at portfolio evaluation time. I don't need this for Pre K but for older levels its good to know! See the
curriculum overview here
.
How we used Time For Learning.....
Star needs help logging on, but after that she can use the program all by herself. I usually let her use the program for 30 minutes to an hour per day. She would gladly stay on much longer but I feel that kids need to do a lot more than sit at a computer all day to learn. I use the time that she is online to teach English to my 3 older homeschoolers. There are way less distractions when she is busy on Time For Learning, and we get through our lesson much easier. I go check on her progress later that day when Im less busy.
What did we think of Time For Learning.....
Star loves it, she asks every morning to get on just after breakfast, she does like to eat first, a kid has to have her priorities right? I have noticed such an improvement in her letter sound recognition. When I show her flashcards she knows her consonant sounds but still struggles a bit with certain vowels. I like that she is getting extra practice in this area every day, I have to admit I don't always have the time to give her individual attention every single day.

She has always been good at counting, so she really likes those type of activities. She can now recognize her numbers too. I didn't know she could do this until just the other day when I gave her a coloring sheet with a number dot to dot and she was able to do it unassisted. I didn't teach her that, it had to be Time For Learning!
What I like.....
I like several things about
Time For Learning
for Pre K including the age appropriate activities, she feels like she can do it and has only asked for help a few times. I can tell she is learning, but she is having such a good time doing it. She enjoys showing off her check marks to her siblings and me, I feel like this is very encouraging for her and makes her feel like a "big girl". Being the baby of the family must be hard sometimes!
I like that we can log her in anywhere, if we visit grandparents or the library and she needs a quiet break I can turn it on for her for a while.
I like the break it gives me to tackle English with my older kids every day. They seem to enjoy her being occupied for a bit as well.
I like that I can check on her progress with the parent tools, and there is even a
parent forum
to interact with other using TFL and get ideas, etc.
Anything we didn't like?
I feel like it has many advantages, including learning computer skills like using a mouse, but I would not use this as a stand alone curriculum myself. I am a hands on mom and I like interacting with my kids and getting outdoors and exploring. I want learning to be more than just screen time. But it definitely has its place, don't get me wrong. I am glad to know that this option is out there in case we ever have a time of crisis when I am not able to teach my kids for a time.
~~~~~~~~~~~~~~~~~~~~~~~~~~~~~~~~~~~~~~~~~~~~~~~~~~~~~
A subscription to
Time For Learning
for K-8th grades is $19.95 per month for one student, $14.95 per month for each additional student. High School subscriptions are now available too. Those are $30.00 per month and include 4 courses.They offer a money back guarantee if you aren't satisfied!
View a demo for the grade level you need by clicking here.
Many other grade levels were reviewed by other members of the Schoolhouse Review Crew. Check those out by clicking the banner below.