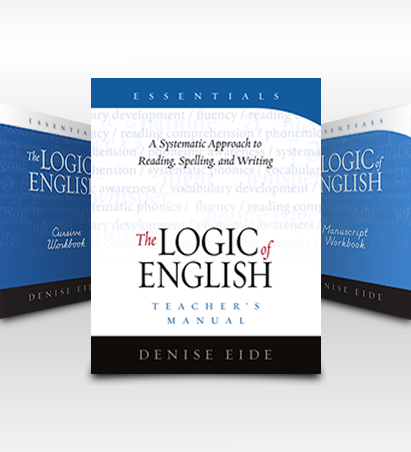 If I had to pick the most useful product academically I have reviewed this year,
Logic Of English
would win the award hands down. I have been abundantly blessed to review the
Essentials
program for the past few weeks with my 7, 9, and 10 year old children.
We received.....
Logic Of English Teachers Manual
, which is a sturdy hardback book, $95.00
One
Student Workbook
(paperback), in manuscript, $25.00 ~ A PDF Family license can be purchased for $25.00 if you have more than one child and would rather print the workbook at home to save money. This is what we did so I could use this with 3 of my children.
Basic Phonogram Flash Cards
, $18.00
Spelling Rule Flash Cards
, $15.00
Phonogram and Spelling Game Book
, $15.00
and 2 sets of
Phonogram Game Cards
in Red Manuscript and Blue Bookface type, $10.00 per set
The video below will give you an overview of the program...
How we used Logic Of English...
It was still summer when we began using Logic Of English, we had been doing a light school day throughout the summer however. I was a bit overwhelmed when I first received the box, it seemed like so much to figure out. The teacher manual is so well written that getting started was not hard at all. In fact, because it is scripted and tells you exactly step by step what to do and say I felt very at ease teaching with it. A whiteboard or chalkboard is also needed. Some of the demonstrations require writing where they can see well.
For the first lesson, which reviews the phonograms, I taught each child individually. I thought this lesson would be easy peasy and we would just skip right through it. What I discovered though is that each of my kids knew their consonants very well, but did not know all of the vowel sounds and two were even confused about which sound was which. Its no wonder they have been struggling!
One vowel sound in particular has never been taught in any other program we have used. Look at the word "ONION", in this word the "I" makes the sound of the consonant "Y". My son has always heard that sound, associated it with Y and spelled it "unyun". This is one of those English words that drive everyone a little crazy, but Logic of English has helped to de-mystify the proper spelling and pronunciation of words like these.
Each day we do part of a lesson, I want things to really sink in and stick so I require mastery before we move on. The games from the Spelling Game book really help with this, as they give review over and over as the kids play. They enjoy all the games we have played so far, they even play when Im not in the room but I prefer to be in there so I can be sure they are using the right sounds, especially for those tricky vowels! The Phonogram Game Cards are essential to use the game book, and I feel like the games are a huge part of what makes this program successful.
The flash cards are essential for teaching the lessons from the manual. Other sets of flashcards are available but we got by just fine with the two sets we received.
How each of my children have benefited from using Logic Of English.....
My 10 year old son actually asks to do English first every day. He has struggled for so long, and now that English is finally making sense to him he is like a sponge thirsty for water, he wants to be a good speller and a better reader. He is motivated and excited to keep going! I have noticed him picking up a book and reading on his own in the past couple of weeks. He loves stories and books but doesn't usually do this on his own. My heart is overjoyed!
My 9 year old daughter is an avid reader and has a book in her hand every night in bed, but her spelling was awful. She likes writing in her journal and has a pen pal, but she would have me edit her letters and she would re-write them because others have a hard time deciphering her spelling. We have both noticed her spelling improve since starting Logic of English. She too wants to use the program every day and just smiles as we work together.
My 7 year old daughter is good at sounding out short words and is right at the perfect level for using this program alongside her brother and sister. Much of this is new to her but she is learning it quickly, her reading and fluency has definitely improved, her spelling is coming along at a slower rate than the older kids. Thats OK, we are going a bit slower but I know she will catch up at her own pace. I am so thankful that she is learning this way at a younger age and I believe she will have less problems in the future because of this.
Besides the benefits Ive described above I am so grateful that I can teach English to all 3 kids at once instead of teaching separate grade levels. This may not be possible for every user, but because my kids are close in age, and were also close in abilities it worked out perfectly for us. I can spend more time each day using Logic Of English and giving each child individual help as needed because my time slot isn't so small.
I have seen a lot of progress by using this program for just a few weeks, I am so excited to think about what their abilities might be like by the time we finish the entire book!

This is a long video, but after watching this I was convinced that this program could help my children. The presentation given makes so much sense! Now after using the program for a few weeks and teaching the way Logic of English explains, my children
are
learning, and finally
understanding
how to read and spell better.