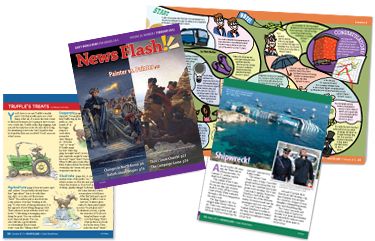 I first heard about
God's World News
magazine through the curriculum we use, it was highly recommended as a supplement for reading and keeping up with the news around the world in a Christian perspective. Every year I have considered subscribing but never took the plunge. Boy have we been missing out!
I chose
News Flash
to review because it is written for 3rd and 4th graders, it has kept the interest of my second grader as well. There is an edition for every grade level. Each issue has 32 pages of age appropriate articles at just the right length to keep their attention span and interest levels high.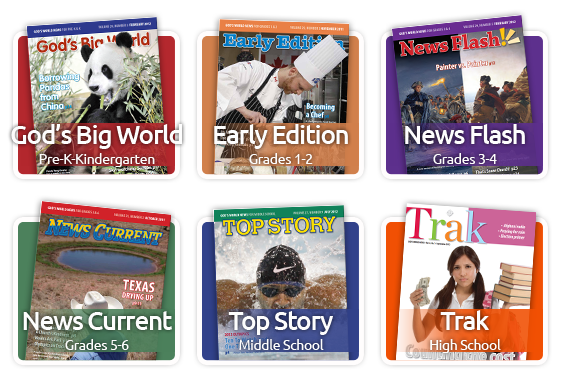 Our subscription started with the September issue which also included a map. As we read articles we go find the location where the story took place. My kids love doing this, last year we studied Geography so this activity isn't foreign to them, and we have discovered a couple of new places. The map fits perfectly on our magnetic dry erase board so I didn't have to find wall space for it, we get it out as needed.
A few of the articles have left the kids wanting to know more, so we searched for more information. They have especially enjoyed the articles involving animals. I love it when they want to explore a topic more, it usually leads to discovering fun facts and information and feeds their desire to learn.
Many subjects are touched on including social studies, biographies, science, history, geography, language arts and math (in the form of puzzles and games), and of course reading comprehension. I especially like the BIBLE2LIFE sections where the story content is connected to what the Bible has to say about it. It is a wonderful reminder that God is always involved and cares about us here on Earth.
In addition to the printed magazine we also have access to all the magazines online. We can read from the computer or our kindle fire devices. This is nice because we each have a kindle fire, so we can all read together on the same page. We do prefer reading the print magazine, but this is a convenient option to have.
I think God's World News is a good supplement to any curriculum, and a good source of news from a Christian worldview that any family can enjoy whether they homeschool or not.
As an unexpected bonus I was sent an issue of
World
magazine, which is the adult version of this publication. I must say I am rarely a reader of the news simply because I do not always understand what is being talked about, or the obvious "worldliness" is something I would rather avoid. It was genuinely refreshing to read the articles in World, in fact I read it cover to cover. I felt they did a good job of explaining the topics, and because it was presented in a Christian worldview there was nothing offensive that I felt I shouldn't be reading.

A full year subscription to
God's World News
magazine includes 10 issues received monthly except for May and December. The cost is $28.00 per print subscription, and also includes online access to all of the God's World News kids and teen websites. You can sign up for a free
weekly email newsletter
that gives even more content as well as answers to the quizzes and puzzles.