Our sixth year of homeschooling has begun, and some days I still feel like we are so new at this, and I dont know what Im doing. I rely on God to get me through each day, but some days are just so busy, with so many things going on, that I forget to seek His guidance. I often fall into bed at night exhausted and realize I never took the time to pray or read my bible that day. I wonder if the day could have been easier to bear if I had taken that time?
When the opportunity came up for reviewing the
NIV Homeschool Mom's Bible
from
Zondervan
I prayed that I would be picked. God blessed my request with the NIV version because I personally have a hard time understanding the KJV, but both versions are available.
My goal for using this bible was to get up early each morning and spend quiet time with God while reading the daily devotion and the scripture in between that days devotion and the next. Has it happened every day? Honestly no. Some days I have just a few minutes and some days I have a bit more time than others. Some mornings I just want to keep reading, so I do. Some mornings I barely have time to pray alone. By the end of the week I am usually close to where I should have been in my daily reading anyhow. Funny how that works out!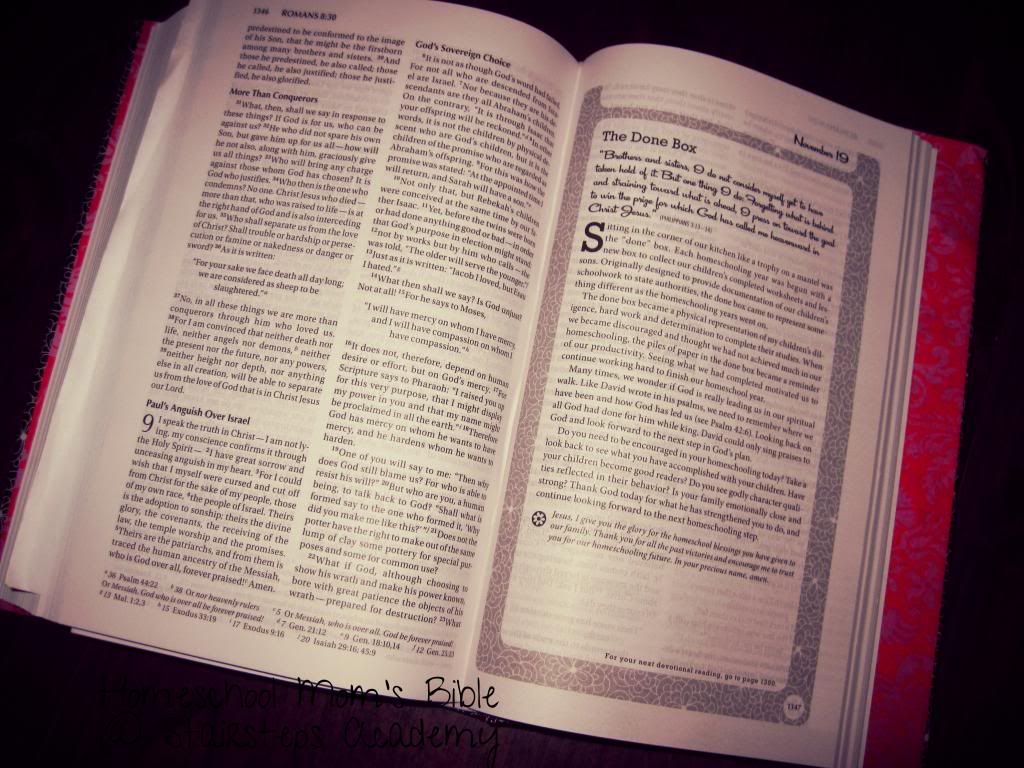 It has always been a personal goal of mine to read the entire Bible. I end up reading my favorite books over and over again such as Psalms and Proverbs, but other books get skimmed over or partially read. The format of the Homeschool Mom's Bible makes it easier for me to stay on track with my daily reading. There are a few pages of scripture divided by 365 dated Daily Devotions written especially for homeschooling mothers by Janet Tatman.
She has been homeschooling for 25 years! She has lived through the same struggles, experienced the same joys, and found strength in God's word to get her through. I really appreciate her encouragement and the way she shares her heart each day. Often it has been JUST what I needed to hear that day! When I want to read about a certain topic, such as forgiveness or love, the topical index in the back of the book guides me to just the passages I need right away.
The only thing I want to add to this bible are tabs so I can look up the different books more quickly. Its just something that I personally prefer and is easily added, if I can ever make it to the Bible bookstore. Although there is a table of contents in the beginning that lists each book with a page number. There is also a page listing the books in alphabetical order. This is especially helpful on Monday mornings!
As a stay at home homeschool mom we have a limited budget. If one of my children needs a certain book or tool for school I find creative ways to get whet they need. I often neglect my own needs, and sometimes this is OK. I dont NEED that new pair of shoes or that fancy new gadget. But I do NEED time with my Creator, I NEED to spend time with the One who knows my heart and has called me to homeschool in the first place.
This bible is an expense that I feel would have been well worth its cost.
The
Homeschool Mom's Bible
is available in either NIV or KJV in hardback with a dust jacket for $34.99. An
ebook version
is available to download for $14.99. There are also
leather bound editions
for $49.99.