Since we discovered the wonderful biblically based products offered by
Apologia Educational Ministries
my job as a homeschool mom has become much easier. I always recommend the
Young Explorers Series
when others ask about what to use for their homeschool science curriculum.
We have been blessed to review the newest book in this series titled
Exploring Creation with Chemistry and Physics
by Jeannie Fulbright and we also received the corresponding
Junior Notebooking Journals.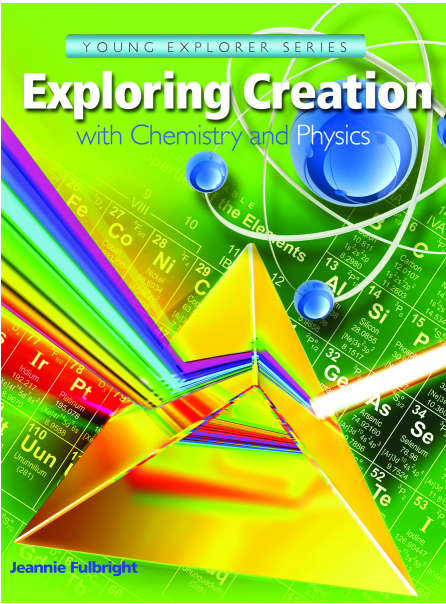 The Exploring Creation with Chemistry and Physics
text ($39.00) is a beautiful full color non-consumable hardback book. The recommended age range is K-6th grade, but I honestly feel that older children will benefit more than the younger ones for this subject. The information is presented in a way that makes sense, the experiments really make what you have learned stick in your mind. I can honestly say that I was learning all of this right along with the kids. While some of the concepts were familiar to me, the "why and how" was so much better explained!
I wish I had been taught this way! Jeannie writes in a relaxed conversational tone, and uses words young children can understand. I love how she uses analogies to explain concepts. For instance she compares the states of matter to a typical child's day. When he is at rest, he is like a solid. When moving around slowly in the house with the family, he is like a liquid. When outside running and jumping all over the place he is like a gas.
In addition to the textbook, Apologia offers additional help if you need it via mail, email, fax and by phone. They also have a course website full of all kinds of extras. In fact all of the science titles have a special website. All of these resources are given in the beginning of the book.
Apologia makes science enjoyable, and I do not have to worry about any false teachings in any of their subjects. Every page is based on what the Bible teaches us about Creation. Kids are encouraged to explore Creation scientifically because God tells us that He created the world for us to enjoy and discover the wonders that He has created for us to find.
The book has 14 chapters including...
Introduction
1. Chemistry and Physics Matter
2. Moving Matter
3. Building Blocks of Creation
4. Compound Chemistry
5. Multitude of Mixtures
6. Mechanics in Motion
7. Dynamics of Motion
8. Work in the World
9. Sound of Energy
10. Light of the World
11. Thermal Energy
12. Electrifying Our World
13. Mysterious Magnetism
14. Simple Machines
Supply List
Answer Key
Photo and Illustration Credits
Index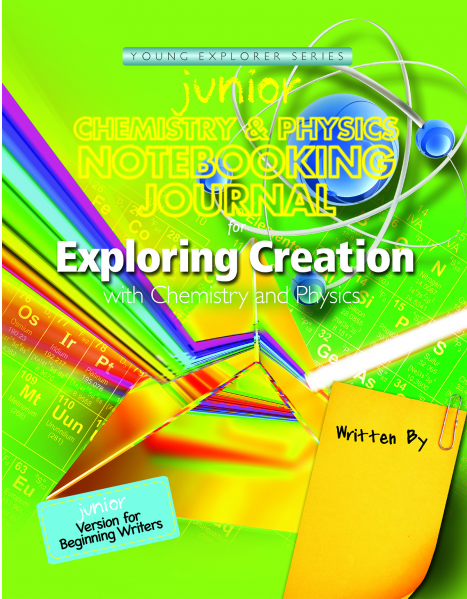 The Junior Notebooking Journal
($24.00) is designed for younger students and those with limited writing abilities. It's full of pages to write thoughts and illustrate them, puzzles, coloring pages, vocabulary activities, copywork, little hands on activities and more experiments to try. It is suggested to do as many activities as your child can handle, but not every page needs to be done. If your child doesn't love to color, or do crossword puzzles its OK to skip those and do other pages instead.
Using a Notebooking Journal is not essential to use the textbook, but it really does keep everything looking nice, neat, organized, and I dont have to plan anything in advance except having the ingredients ready for experiments. Im so glad the book already has that listed out for me as well!
My kids have enjoyed having their own special book to complete and share with visiting friends and relatives.
A
regular Notebooking Journal
is also available for older kids. In the beginning of either version of the notebooking journal a schedule is given so you can complete a chapter in 2 weeks. We found this schedule to be a little much so we took our time and went slower than suggested. Do whatever works for your family to keep the learning fun and interesting.
Each chapter has several sections called "Try This!" Here is where the kids get involved hands on with activities and experiments. We do every one of these that we can, sometimes the ingredients are too expensive because we are unable to find something in our rural area. This is rare however as most of them use common household items or things easily found locally.
The book is divided up into mini sections so you can easily stop and start again whenever you like. We would read until we came to a "Try This" that we wanted to do, and sometimes they would ask to read more and some days were ready to move on to another subject. They have really enjoyed all the hands on science! They have each said at one point that this felt more like fun than learning. Music to my ears!
Showing off their homemade lava lamps, which demonstrated density.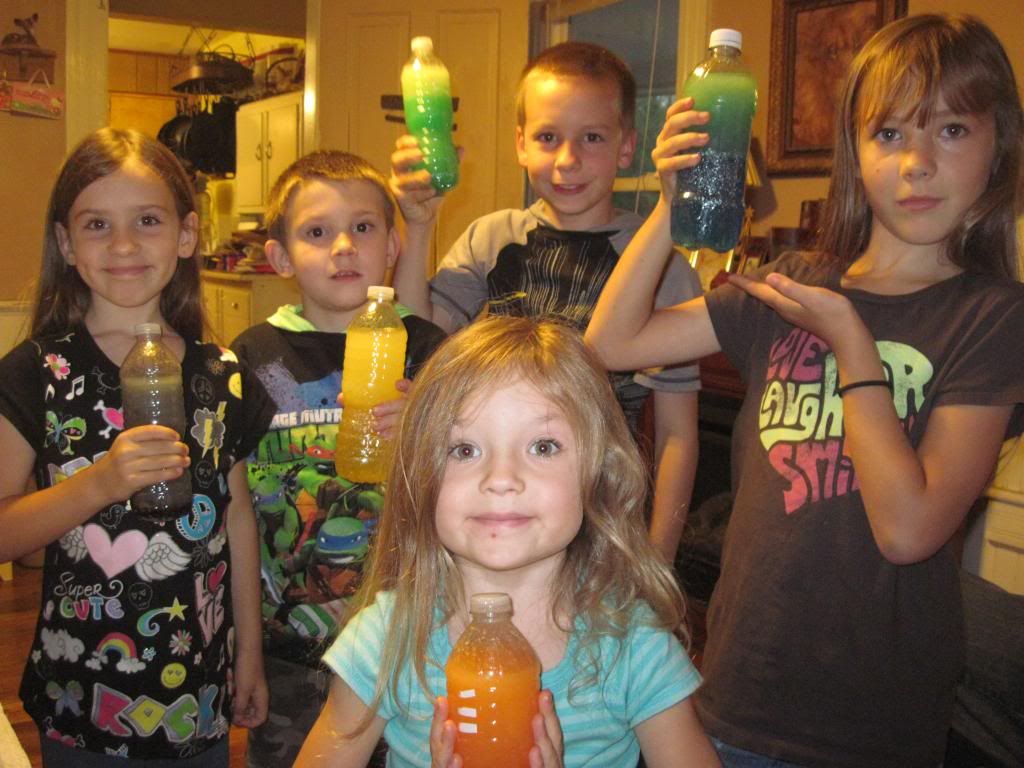 Finding out which boat design can hole the most pennies before sinking, all while learning about buoyancy.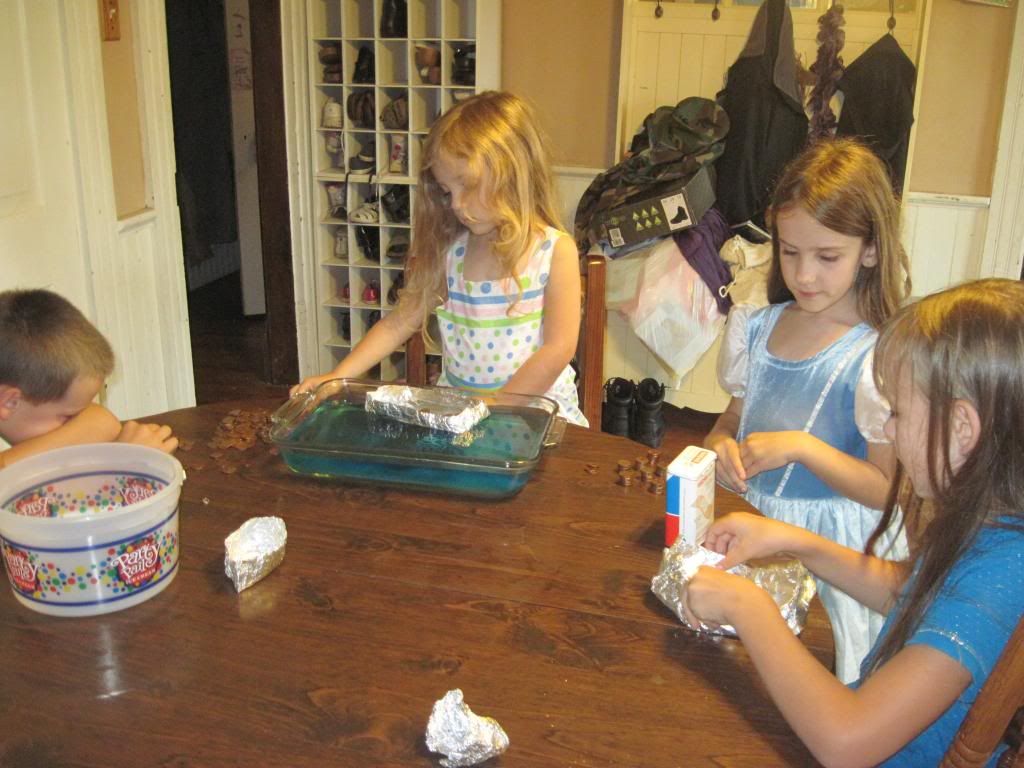 Learning about the states of matter including this tricky substance, called an amorphous solid or a non-Newtonian liquid.
Everyone loves edible science experiments! They made sorbet to demonstrate the freezing point of liquid and how it is affected by adding salt.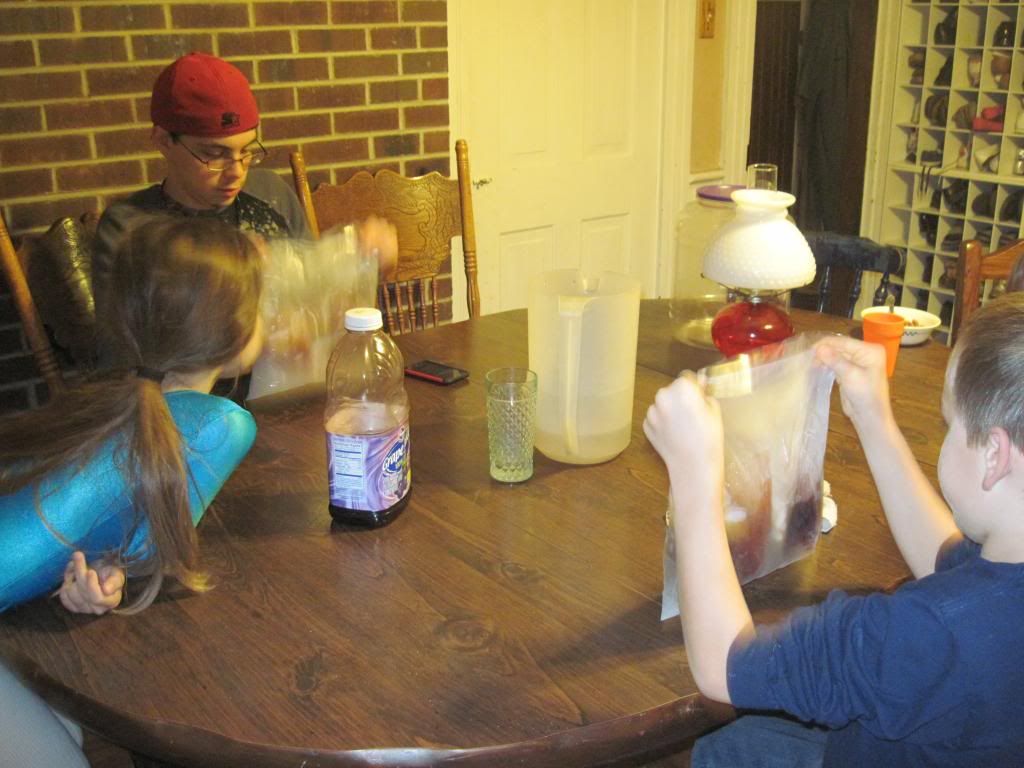 I had to make a video of the lava lamps, the kids were so excited! They are still talking about this weeks later.
I highly recommend all of
Apologia's Young Explorer Series
titles for those looking to teach Creation based science in a hands on fun way. Its not the boring dry textbook science we learned as kids, its 100 times better! Check out the first chapter of
Exploring Creation with Chemistry and Physics for FREE
(click on Chemistry and Physics sample) and see for yourself just how easy and enjoyable science can be.