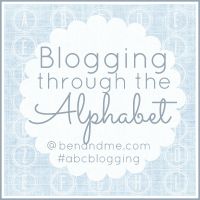 J is for Just Do The Next Thing
We all have seasons of hard times in our lives. At a bible study I attended last year I remember learning that every single one of us is either in a trial right now, we just came out of one, or one is coming. When I look back on my life I find that statement very true.
One thing I also see when I look back is that God always had a plan, and it wasn't always the plan that I had in mind. I can see now how things worked out for the best, even when it seemed at the time that there was no hope.
Some trials are brought on by ourselves. When we knowingly make bad choices there are always consequences. Other times it is a loved one going through a trial, and we can be so deeply involved that it feels like our own.
I have found that there are two things that really help get me through these times. Prayer of course is #1. When no one else understands or will listen, God will. The other thing is to simply praise God through the storm. There is always a reason to praise Him, even when I don't feel grateful or thankful if I really stop and think about it God is still taking care of me through it all. He has never left me alone, and He never will!
Psalm 116
1I love the

Lord

, for he heard my voice;
he heard my cry for mercy.
2Because he turned his ear to me,
I will call on him as long as I live.
3The cords of death entangled me,
the anguish of the grave came over me;
I was overcome by distress and sorrow.
4Then I called on the name of the

Lord

:
5The

Lord

is gracious and righteous;
our God is full of compassion.
6The

Lord

protects the unwary;
when I was brought low, he saved me.
7Return to your rest, my soul,
for the

Lord

has been good to you.
8For you,

Lord

, have delivered me from death,
my eyes from tears,
my feet from stumbling,
9that I may walk before the
Lord
in the land of the living.
10I trusted in the

Lord

when I said,
"I am greatly afflicted";
"Everyone is a liar."
12What shall I return to the
Lord
for all his goodness to me?
13I will lift up the cup of salvation
and call on the name of the

Lord

.
14I will fulfill my vows to the
Lord
in the presence of all his people.
15Precious in the sight of the
Lord
is the death of his faithful servants.
16Truly I am your servant,

Lord

;
I serve you just as my mother did;
you have freed me from my chains.
17I will sacrifice a thank offering to you
and call on the name of the

Lord

.
18I will fulfill my vows to the
Lord
in the presence of all his people,
19in the courts of the house of the

Lord

—
in your midst, Jerusalem.
So when life seems to be coming at you from every angle and is so overwhelming you feel as if you just cant do anything,
just do the next thing
. Try not to look at the big picture and just focus on getting through today. If your needs for today are rest and food, than focus on that. Snuggle up with your spouse or kids and just be together. Eat simple meals, and its ok if you eat cereal for dinner! This too shall pass, but for today it is OK, do not feel guilty!
If your needs for today involve really hard things, don't be afraid to ask for help. The worst someone can say is no. But maybe there is someone out there just waiting for you to let them know your need so they can help.
Ask for prayer, you do not have to be specific about what they are praying for, God already knows that. And while we are on this subject, ask if you can pray for them as well. Remember that this person may be in just as hard a trial as you are but isn't asking for the help and prayer that they need.
James 5:16
King James Version (KJV)
16 Confess your faults one to another, and pray one for another, that ye may be healed. The effectual fervent prayer of a righteous man availeth much.
Last of all, just love. Stop giving yourself a hard time, the world is doing that already. Jesus came to show us love, it is what He wanted for us all. Start by loving yourself, no matter what you have done. Because Jesus loves you just the way you are already!
Romans 5:8
New International Version (NIV)
8 But God demonstrates his own love for us in this: While we were still sinners, Christ died for us.
If I can pray for you, let me know. And yes I am writing this because the trials are here right now. If you feel led to pray for me I wont stop you.
Smile! This trial will end. I don't know when and I don't know how right now, but I do know that God is with me in this and He already has a plan and knows the future.
Jeremiah 29:11
New International Version (NIV)
11 For I know the plans I have for you," declares the

Lord

, "plans to prosper you and not to harm you, plans to give you hope and a future.
He's got this! Give whatever it is to God and let Him handle it!