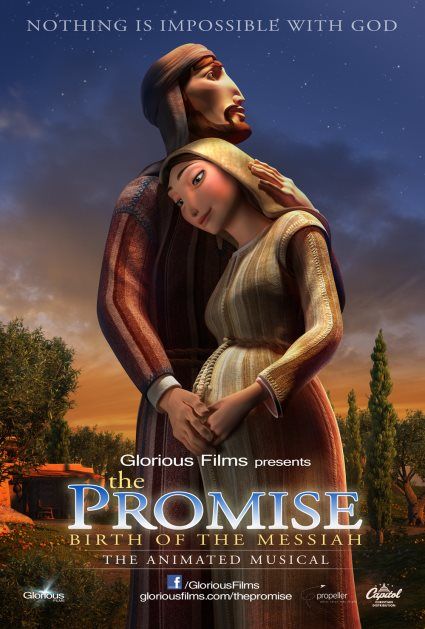 I know what you might be thinking right now.
Who needs another Christmas movie?
I know there are a lot out there, especially for kids, but this one is a little different than any others I have seen.
The Promise ~ Birth of the Messiah
is an animated musical. If you are a fan of musicals then this will be right up your alley!
My kids will watch anything in animated form (and this isn't always a good thing) so they were excited about watching it as soon as they saw the cover. My children have heard the story of Christ's birth many times in their lives and have watched many movies as well. I like to watch them with them just in case there is something questionable so this was our family movie this week.
The animation is very good, the songs are catchy, and everyone wanted to watch it again as soon as it was over. I asked the kids what they thought afterward and I was surprised by some of the things they said. Three of them said that it ended too soon, or should have a part two. The story ended shortly after Jesus was born and Mary and Joseph took Him to the temple. They wanted to see more, and I cant blame them. The Christmas story is about more than just the birth of Jesus. I hope there will be more of the story yet to come in other sequels.
My daughter was also disappointed that the angels who sang to the shepherds in the field did not mention following a star, and no star was ever shown in the night sky. I noticed this too, and I'm not sure why that VERY important part was left out. She wanted to know how the shepherds would have found Him without it. That's my logical thinking child for ya!
The whole underlying theme of this film is that
Nothing Is Impossible With God
, and I loved how Mary was portrayed as being so willing to be a part of God's plan even when she was so young herself and didn't understand fully what was going to happen to her. Yet she was willing to trust God and know that He had a plan for her life. Its a lesson we all need reminding of often!
I think your family will enjoy The Promise ~ Birth of the Messiah. It is a fresh new perspective on the Christmas story.
I get to give away a copy to one of my readers out there, if you would like to win one just enter through the Rafflecopter form below. A winner will be drawn on December 13th so the movie can get to you before Christmas so enter right away!
a Rafflecopter giveaway