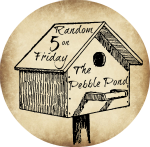 Its been another busy week here, and I'm glad to see Friday roll around. Not that weekends are any less busy actually, but at least I don't have to get up at 6 AM and take my teenager to school in the morning. With my husband being on evening/night shift I am basically running on two different shifts and I'm just tired. Without further ado here is my random 5 for this week.....
1. Spring must be coming yall. Every morning on my drive to the bus stop I see bunnies everywhere! I have to swerve to miss hitting them sometimes. Bunnies, bunnies, bunnies, yay!
2. I have been trying to add more variety to my diet and this week I added
quinoa
. Google that if you don't know what it is, its a grain like rice, sort of. Its a superfood! Anyhow Ive been having it for breakfast a couple of mornings with cinnamon. Pretty good! I have had it before but not for breakfast. Its all a part of the
Trim Healthy Mama
lifestyle that I started last April. I have lost nearly 30 pounds since then just by changing the way I eat.
3. This old computer of mine will be
obsolete
in April. If you have windows XP better check out that link. It seems like I have had this one forever and yet I still love it. Im going to miss this computer when it finally dies. The keyboard gave out last week after nearly 9 years. Its hard to find one to replace it, but finally we did.
4. My kids have started a new math program called
Teaching Textbooks
. Where has this program been all of my homeschooling life? Suddenly math is enjoyable, yes I did say enjoyable! My math hating stubborn 10 year old has been doing multiple lessons a day. He told me last night he is finally understanding some things that made math hard for him. Praise God almighty!! It was worth every penny! I started him on 3rd grade just so he could play catch up and not miss anything important. My 7 and 9 year old asked to try it too and they are also loving it.
5. I guess Im computer shopping, anyone have any suggestions or great sale links? Hook me up!