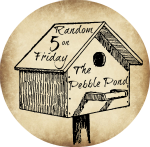 This has been a week full of hard decisions and tears. I cant go into details but through it all I am praising God and trusting Him to get us all through it. Some random things I have thought this week.....
1. I am glad I am not a teenager in this day and age. I thought it was hard then but it just may be harder now.
2. Theres a lot of snow outside and Im happy about that.
3. Switching rooms with kids is very un fun. I pray I never have to move the whole house ever!
4. Stress hurts.
5. I think I may be ADD, this post just might prove it. LOL
Have a blessed week!