Last year we were so blessed to review
Logic Of English Essentials
. That one program made such a positive difference in my kids' spelling and reading abilities! We were recently offered to chance to review the
Rhythm of Handwriting Cursive - Complete Set
from
Logic of English
, and of course we jumped at the chance! It just so happened that two of my kids had just asked to learn it, so it was perfect timing.
The
Rhythm Of Handwriting Cursive - Complete Set
costs $65.00 and includes.....
Cursive Workbook
Cursive Quick Reference Chart
Cursive Tactile Cards
Student Whiteboard
Rhythm of handwriting was created for ages 4 to adult. Lesson plans are given for those age 6 and under and for age 7 and above. Of course you are free to go at your own pace, these are simply suggestions and you know your child best.
For this review I had 3 of my kids working on learning cursive. My 10 and 9 year olds had a quick cursive course 2 years ago. They learned to write their names well, but I didn't require them to use cursive every day so they forgot most of it. My 7 year old had never had any instruction in cursive. I had each of them write out the alphabet on the first day, just to see what they could remember. The two older kids remembered a few letters, but not many.
Why learn cursive? Public schools are doing away with it, why should I teach it?
This is a personal decision of course, but here is why I chose to teach cursive to my own children. I can remember as a little girl thinking that cursive writing was some secret code my mom used to write things so I couldn't read it. I was determined to learn how to read her writing! I choose to write in cursive now because it is quicker and easier for me. I have heard these same words come out of my kids' mouths when I am making a grocery list or writing a letter. "What does it say???" they ask.
Someday when my kids are older, if they cannot read cursive they will not be able to enjoy my journals, or my letters from my brother in the army, or the original Declaration of Independence. History is written in cursive! Even if they choose not to write in cursive, they still need to know how to read it.
Click here to read what
Logic of English has to say
about teaching cursive and why it should be taught first.
What makes this program different from other writing programs?
1. There is no teacher manual. Everything you need to teach your child is included in the student workbook.
2. Every lower case letter starts at the baseline, and these letters are taught first. This makes it so much easier.
3. The letters are grouped by their initial stroke, and each stroke has a spoken direction.
4. The tactile cards give the student the chance to
feel
how the stroke or letter is formed before trying to write it.
5. All 4 learning modes are used. Seeing, hearing, doing, and speaking.
How we used Rhythm of Handwriting.....
We chose to learn 2 letters each day, and we didn't move on until mastery was achieved. Of course some of the kids moved along faster than the others, and this is OK. I let each go at their own pace. My 10 year old son is very artistic and has very good fine motor skills, so writing on paper was easy for him. He loves using the whiteboard too, and often embellishes his letters for fun.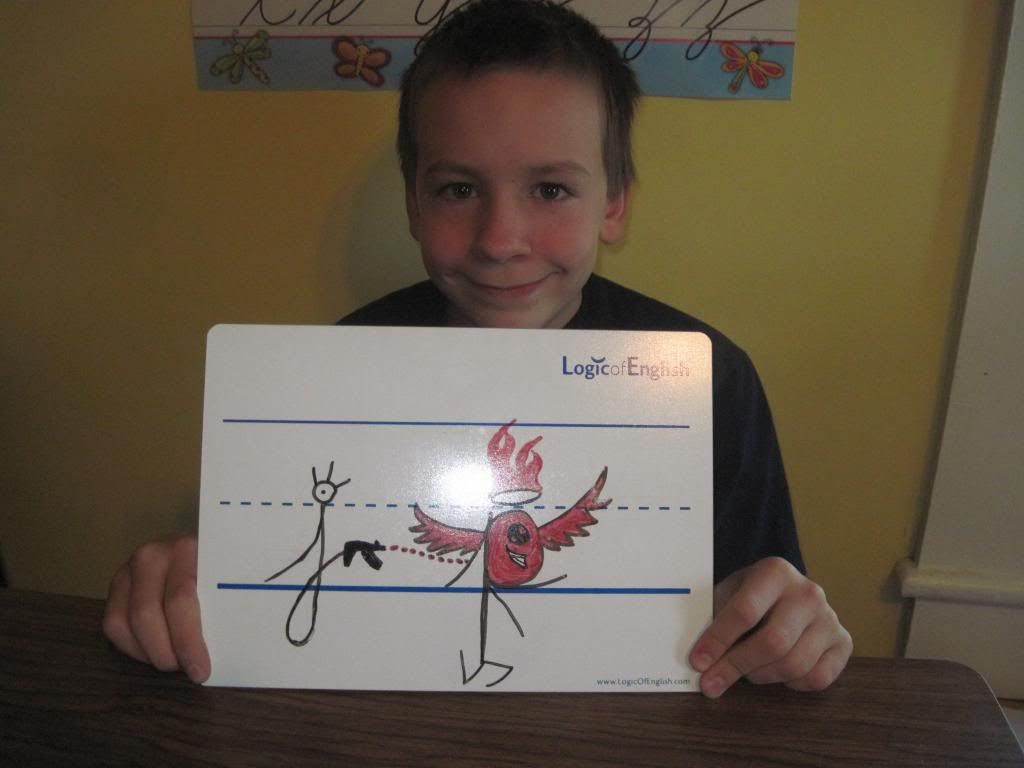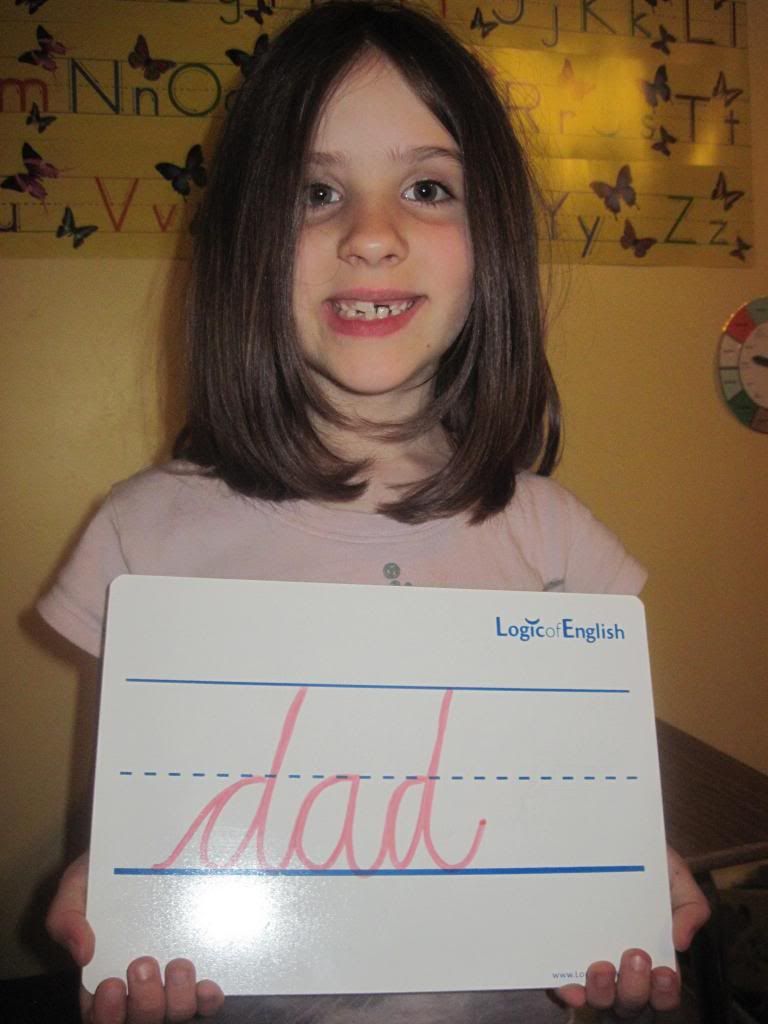 The tactile cards were very helpful for my 7 year old, she had a hard time at first figuring out how to make the movements. She likes using the whiteboard as well, and was very proud when she wrote her first word in cursive!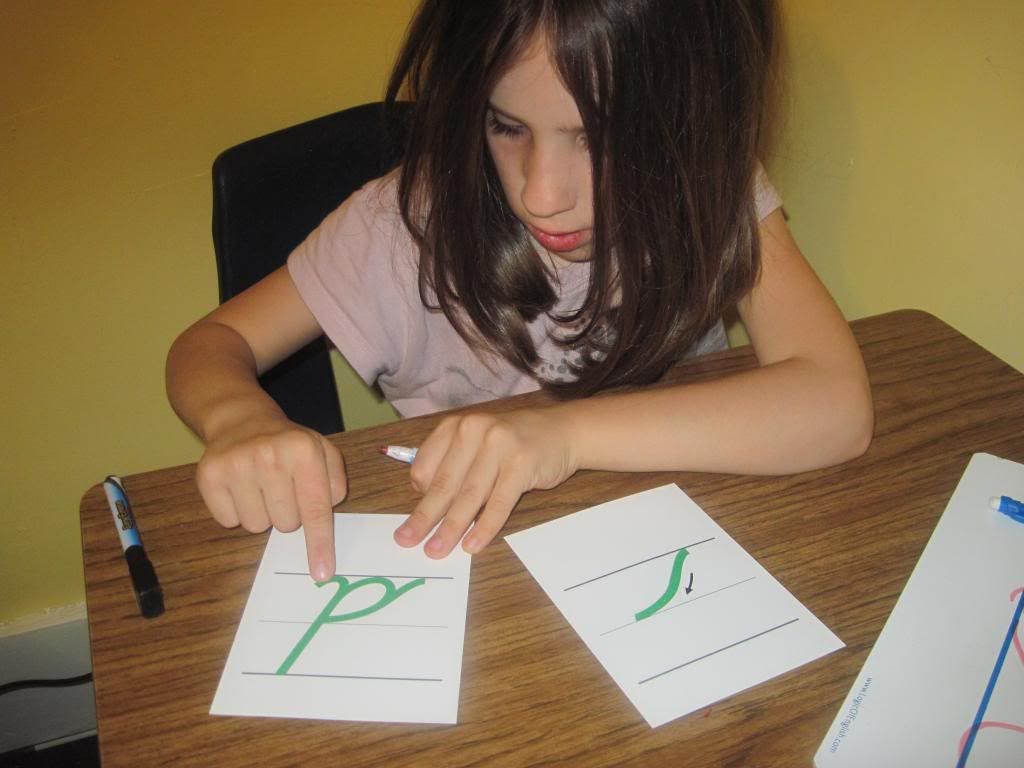 My 9 year old likes writing on paper, she didn't use the tactile cards much but the quick reference chart is used by her every day. She keeps it on her desk in case she forgets how to write a letter she doesn't use often. Her handwriting has always been neat and she is enjoying learning to write a different way.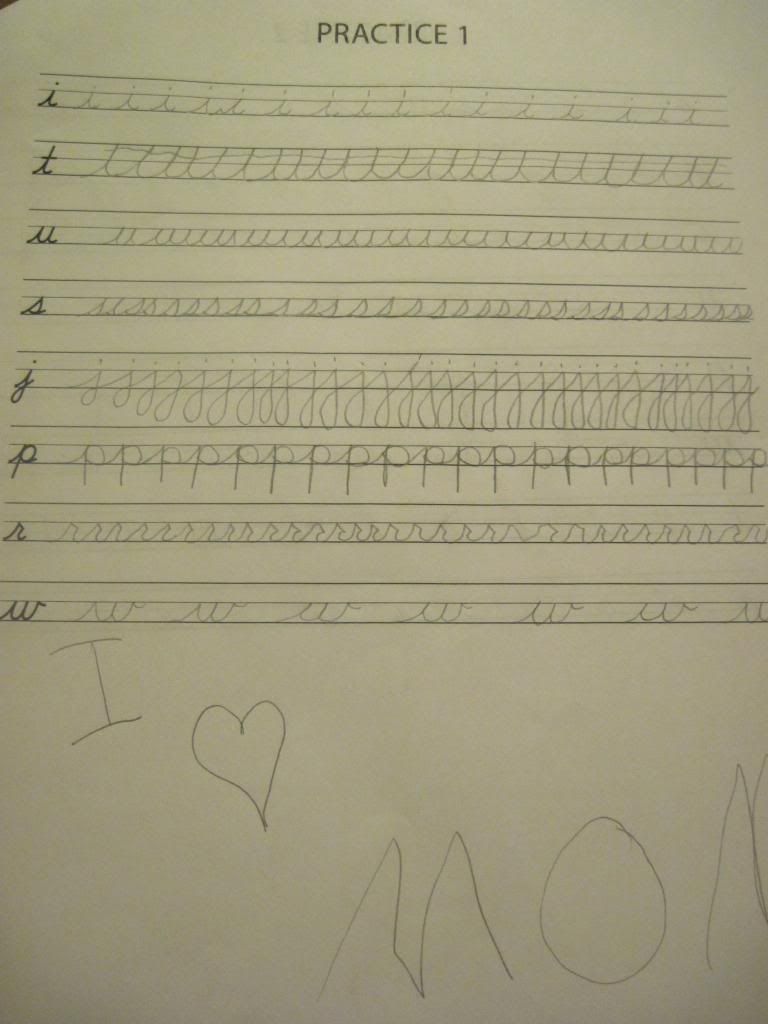 What did we think of Rhythm of Handwriting?
I think this program is easy to use, is very well put together, ties in perfectly with the Logic of English Essentials program we are already using for English, and is kid friendly. I highly recommend it, and now that I can see for myself why learning cursive first is such an advantage I plan to do that with my 5 year old this fall.
The kids are happy to be able to read some cursive now. Not all adult handwriting is this neat and pretty, but at least they can decode most of it. I am so thankful for this opportunity! We LOVE it!
Connect with Logic Of English via-
Facebook- https://www.facebook.com/TheLogicOfEnglish
Pinterest- https://www.pinterest.com/logicofenglish/
You Tube- https://www.youtube.com/logicofenglish/
Twitter- https://twitter.com/LogicofEnglish