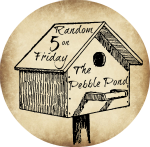 1. I am so excited because I got to meet a friend whom I have talked with for 10 years online in person! We have had babies at the same time, homeschool, have large families, and so many other things in common. She also has a new baby and I get to hold her and smell that fresh baby smell I miss so much. It wasn't weird or awkward at all, we had a total of 12 kids here that day and there wasn't one fight, they played beautifully and the adults even got to talk. Amazing!
2. My second son is coming home to visit for at least a week. I am so glad God blessed us with this big house. I may hate the heating bills in the winter but I can have many many people here comfortably. That will come in handy someday when my 8 kids are all grown and we have a ton of grandkids. I already have 5 and only 3 of mine are grown. Actually those 5 all belong to my oldest.
3. We are going to visit my mom today and stay the weekend. The kids are staying in tents in the yard but I claimed the real bed. My back cant handle the tent camping thing anymore, although I miss doing that.
4. I still cant believe its July already. Why does summer go by so fast?
5. It finally got warm enough for me to feel it this week. Im a cold natured person so it has to be about 80 degrees or I keep cold chills. I know Im weird!