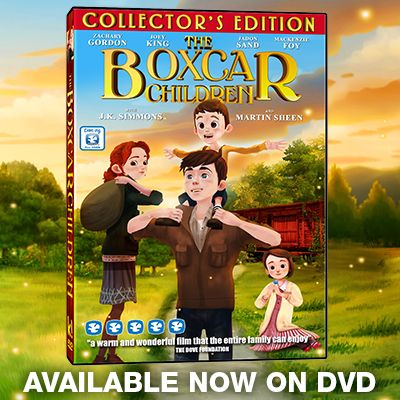 One of the very first chapter books I read as a girl was
The Boxcar Children
by Gertrude Chandler Warner. I was taken back in time when my 9 year old daughter discovered this book last year and read it all by herself. When I learned it had been made into an animated movie I couldn't wait to share it with all of my kids.
When four children lose their parents they are afraid to go live with their grandfather because of assumptions they have that he is a mean man. So they go off on their own, and eventually find an old boxcar that they make into their home. The oldest brother finds work with a local doctor and things seem to be going pretty well until their little sister gets sick. They go to the doctor for help even though they are afraid of being found.
I wont spoil the ending for you in case you haven't heard the story before, but it is a wonderful ending for everyone! The kids stick together throughout the story and love each other with such patience and kindness. They are brave as they face difficulties and work together to solve problems. It is a timeless story of perseverance and the value of family.
As I expected the kids loved the movie. Although my daughter and I still agree the book is better, we think they did a pretty good job of telling the story.
It made for a perfect Family Night movie for us. It is rated G and is a movie I am very comfortable with my kids watching over and over on their own.
We had some great discussions after this movie! Of course we talked about why it is never a good idea to run away. I explained that back when this story was written the world was a different place, this story could have happened back then, in fact there were many homeless children. I assured them that if something ever happened to us they would be well cared for. We also discussed how it would be fun to "play house" for a little while, but bad things can happen to kids out on their own.
You can
pre-order The Boxcar Children
on DVD right now, or...
Would you like to
WIN
a copy of The Boxcar Children for your family? I get to give one away! Entering is easy using the Rafflecopter form below.....
(If you are reading this post via email click on THIS LINK to go to the actual blog page to enter.)
a Rafflecopter giveaway
"Disclosure (in accordance with the FTC's 16 CFR, Part 255: "Guides Concerning the Use of Endorsements and Testimonials in Advertising"): Many thanks to Propeller Consulting, LLC for providing this prize for the giveaway. Choice of winners and opinions are 100% my own and NOT influenced by monetary compensation. I did receive a sample of the product in exchange for this review and post.
Only one entrant per mailing address, per giveaway. If you have won the same prize on another blog, you are not eligible to win it again. Winner is subject to eligibility verification."