I have had many requests to put up a picture of our workboxes so they can see how we did it here. Well here you go!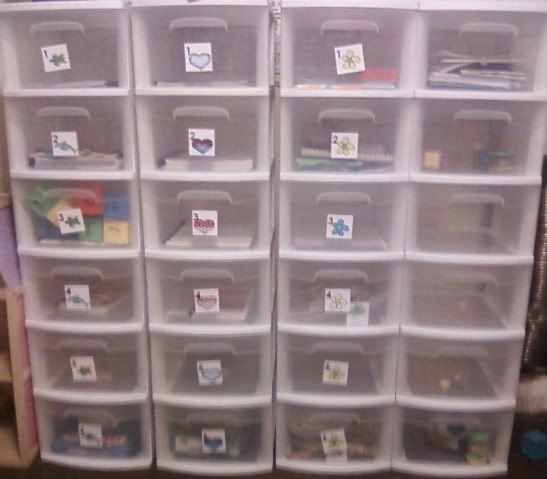 Not the greatest picture I know. But you get the idea :0)
You can read more about this system that works for any curriculum at
Sue Patrick's Workbox System
website.  There are many others who have blogged about this system in detail, and have free printables also, do a google search and you will find plenty of ideas even if you dont have space for something like this in your home. There are many ways to customize it to fit your needs.
I got these boxes from walmart, they come as a set of 3, but we removed the tops and connected 2 sets together to make them taller. Each child has 6 boxes with a number on the box. (Sue recommends 12 boxes but like I said, this system can be adjusted to suit your needs and we only needed 6 boxes.)
Each night I fill the boxes with things for each child to complete the next day. This can be anything from worksheets to games, to art supplies, its up to you! We have bible time and reading together as a group so I didnt need boxes for those subjects. You will notice the boxes on the right do not have any numbers yet. Those are the baby's boxes, I do put things in there for her but shes not old enough to understand all of this yet, she just knows she wants a box of fun stuff too!
After a child completes the activity in his or her box, they take off the number card and add it to either a chart on the wall or a long card held together by rings. (Or some other way that works for you.) When all their cards are gone I check to see what they have done. Some things require help of course, Im never too far away if they need me. It gives them a sense of accomplishment to move those card off the box when they are done. Imagine the feeling you have when you have a list of things to do and you check one off, woohoo one less thing!
So far this is working well, we are on summer break at the moment but there are still lots of fun things in there for them to do each day. Im not requiring them to do everything right now :0) I never hear the words "Im bored!" though. That may have something to do with my house rule that states if I hear the word bored its an automatic chore. LOL!! It sorta rhymes!
So thats about it, hope this helps to inspire someone out there, I know plenty of blogs have inspired me! Have a blessed day!