The Corps of Re-Discovery have put together some really neat  historical replica kits for kids! We were blessed to receive a 
Tomahawk Kit
for review.
The kit was easy to put together, the instructions were clear.  It included everything we needed to make the tomahawk except the markers he used to decorate it. I didn't even have to help the guys out! So I got to take pictures instead.....
Brae used one of his Draw Write Now books for inspiration while decorating his tomahawk handle...
Daddy helped secure the blade onto the handle. The "blade" is made of leather, so it can't actually cut anything, or anyone! It's a nice sturdy thick piece of leather too, that hopefully will withstand Brae playing with it for a while. He can get rough as most boys do!
Brae was very patient! I was proud of him, I knew he could hardly wait to go chop on something!
He tied on the rest of the leather lacing at the bottom himself  :0)
....and the first thing to get chopped is Daddy's head! (No Daddies were injured while testing out the tomahawk!)
Here is the end result! I got a quick picture before he took off outside with it.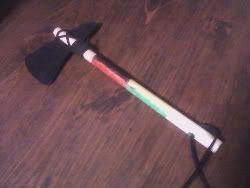 Later that day Brae insisted I get a picture of him holding it. He played with that tomahawk ALL DAY. His sisters cried because they want one too. Do you think they might like to find a tomahawk kit in their stockings?
My son and husband had a great time putting this craft together, and my son has been playing with it ever since. His sisters try and get their hands on it any time he puts it down! Yep he is one happy kid :0) and I must add that a week later he is still carrying it around and it has held up well!
The
Corps of Re-Discovery
offer several other kits on their website that are related to Early American History. This has fit in really well with our studies this year using Adventures in My Father's World. I think we will be ordering some other kits for Christmas gifts!
The Tomahawk Kit
sells for $5.50 and can also be bought in bulk packages of 10 for $40.00. That's just $4.00 per kit! This would make a great craft for Scouts or 4-H or even birthday parties.
Come see what other members of The Homeschool Crew thought about the Tomahawk Kit and other kits offered by The Corps of Rediscovery at
The Homeschool Crew Blog!
Disclaimer ~ We received this product for free in exchange for an honest review as part of The Homeschool Crew. The above review is our opinion after having used the product and completely LOVING it!